Yesterdays loop walk to Barry Falls at Eldorado was attended by 26 participants, including one new member, and three casuals.
The fine weather forecast brought out the desire to get out enjoy the day.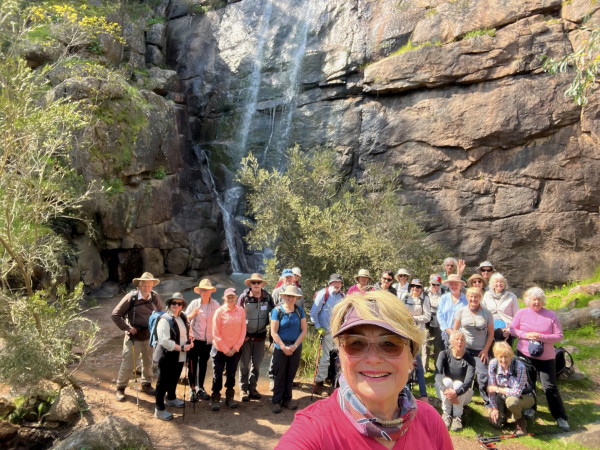 Starting at the intersection of Woolshed and Masons Road, we headed along Masons Road to the intersection with Currawong Track.
The hill is always steeper and longer than the memory recalls, so a rest stop at the top was appreciated.
After turning into Currawong Track, morning tea was enjoyed in an open area with lots of rocks available for seating.
We then continued along Currawong Track to reach a steep, and now challenging, descent area which had been badly damaged by vehicle use that appeared to have removed about two feet of the depth of the road.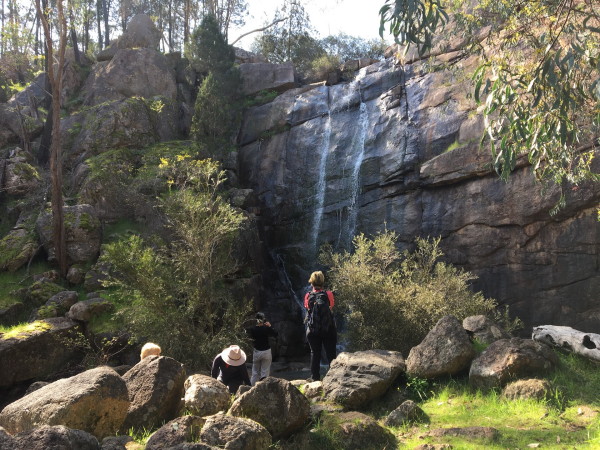 This was followed by a second steep descent before reaching Warbler Track; this provided a stream crossing just before the turnoff to the bush track to Barry Falls, and was easily navigated.
The stream was a good indication of the water to be expected at the Falls.
Lunch was enjoyed at the base of Barry Falls, which is a beautiful spot for lunch, and the Falls had a steady stream of water flowing.
Following lunch we returned to the Warbler Track, and headed to Nioffs Road, then Woolshed Road and the start of the walk.
For those that need to know the elevation, we climbed from about 200m to about 370m, and back.
[Jeanette]