AI (Artificial Intelligence) has been making headlines in recent weeks. So, I thought I would give it a chance to prove itself by writing this walks report.
To celebrate our first ever King's Long Weekend, eleven walkers participated in a Sunday walk on June 11th in the Warby Ovens National Park. The original walk planned was to begin at Frosts Crossing Track, incorporating the Ovens River and billabongs. However, this was changed at the last minute due to a shortage of snorkels and flippers amongst club members. Mount Killawarra, encompassing a loop, would now be the new destination.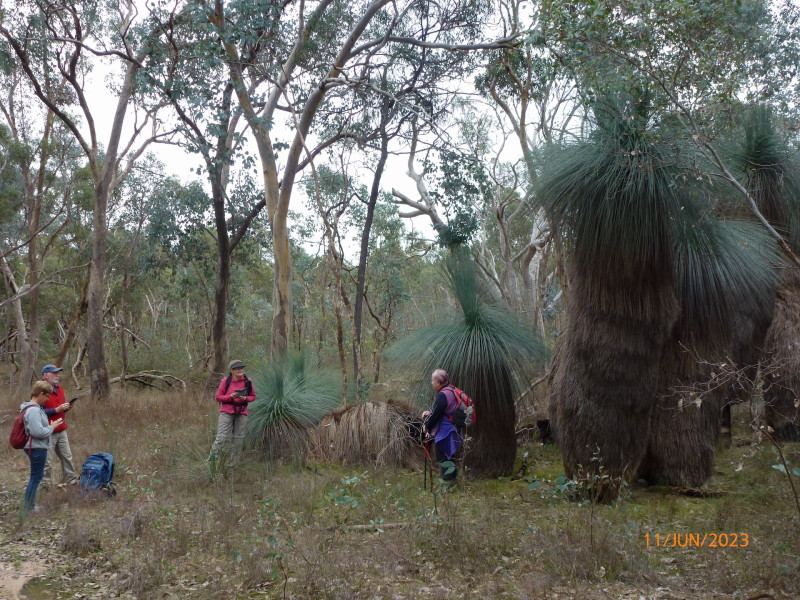 It was an overcast day, with no forecast of rain, so good bushwalking weather.
We are blessed with the Warby Ovens National Park on our doorstep, and it has often provided a wonderful alternative to walks that have been cancelled in other regions because of flood, fire, snow, track, and road closures.
Today we welcomed first time walker Helen. I should point out that she has been walking for a long time, but this was her first walk with the club. Her most recent story was an overseas trip including the UK, and walking in the Cotswolds, known for its fifty shades of green.
Our walk was to begin at Tower Road just off the main Boweya Road. From here it is important to turn right as there is a shooting range if you turn left. When leading a walk, it's often difficult to find someone who is willing to be tail-end Charlie. Even just to morning tea. Fortunately, we have Pat. We began walking through bush following the Perimeter Track. So named probably because it follows the perimeter of the park. After a short distance an un-named detour track was taken which would eventually meet up again with the Perimeter track.
It was along this section that a small gradual ascent was made. Although we had been walking for only about 45 minutes it was a good place to take morning tea. Below us were the orchards of local producers, and a pleasant view into the distance. It was a good opportunity for walkers to catch up with each other, like Glenda, who had recently been overseas. I know she mentioned Italy, and possibly some sort of investment in Prosecco. Just not sure if it was financial investment of more of a consumption investment.
The next part of our hike we met an un-named link track to take us towards Ridge Road, and then onto the direction of Mount Killawarra. On this track we encountered a few enormous grass trees. They looked even more gargantuan when Erin stood beside them.
Wildlife was not in abundance today, but I did spot two kangaroos ahead past the grass trees. The surrounding bush only occasionally sounded the calls of native birds. We reached Ridge Road, and continued north meeting the Tower Road junction, and our turnoff towards Mount Killawarra soon after. You know you have reached the turnoff because the sign says Emergency Water, or something to that effect, and the Mount Killawarra track sign is about 500m further along out of view. Convenient.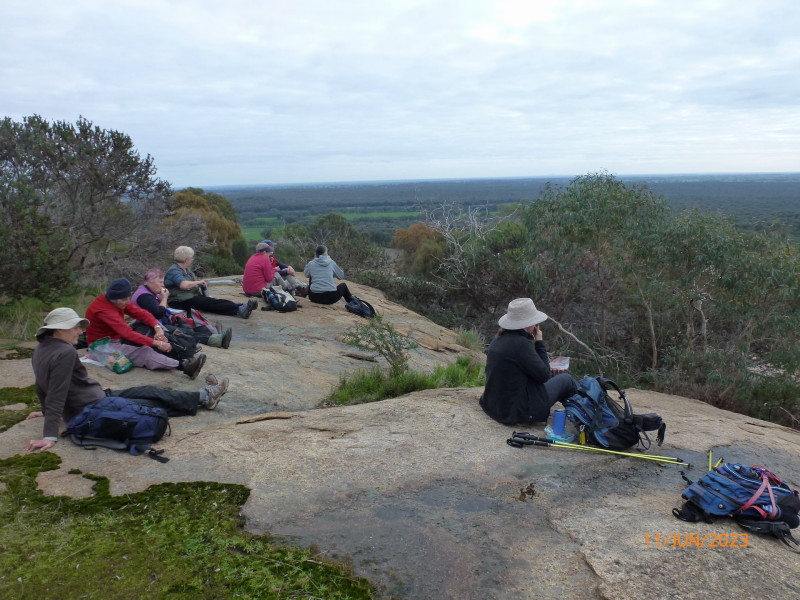 Mount Killawarra is a great lookout point in the northern part of the park. Its granite slabs made a perfect lunch spot with views over Killawarra Forest, Wallaby Hill, Peechelba and beyond. It's a shame it isn't mentioned in the Warby Ovens National Park visitor guide information. Perhaps mentioning its obvious Irish roots along with towns like Killarney, Killybegs, Killorglin, Killimordaly and Killinaspick would enable it to become more of an attraction.
After lunch and a leisurely time soaking in our surroundings, we returned via the Mount Killawarra track, past the emergency water tank to Tower Road. From here it was an easy walk returning towards the cars.
Walking along with Andy and Carmel the three of us were solving world problems with ease. Important issues too. Such as Italy wanting sole use of the name Prosecco. Easy solution is to call it "I Can't Believe It's Not Prosecco". To which apparently the same may be happening with the cheese feta. Simple answer is "better than feta", but perhaps with a spelling of pheta. I know what you're thinking, a seat at the United Nations awaits.
Our walk completed was about 12km in under four hours, and all that awaited was Pat's legendary cuppa and cookies. I should also mention that the afternoon tea for some time has also now included dips and crackers. There is no truth in the rumour that upcoming walks will end with canapes of Oscietra caviar and Jellied Eels. There you have it. An AI produced walks report. Or was it? It may have been more IA – as my intelligence has often been called artificial.
Michael Braendler