There are meaningful moments in history when something momentous occurs, and you know exactly where you were on that day. It becomes significant. Often life changing. Events like the Berlin wall going up, JKF's assassination, NASA landing an Apollo mission the moon, Fleetwood Mac releasing the Rumours album, the Berlin wall coming down, Lady Di's death, Port Adelaide winning the 2004 AFL premiership, the list goes on. For a few of us from the WRBC, it will be Sunday July 31st, 2022, and the Kancoona Gap Track walk.
What we didn't realise was the history being made today by our club walkers. For what I believe is the first time ever, we had men outnumbering the ladies on a walk. Sorry, I should have warned you and asked you to sit down first. That's correct 57% of the walkers today were men. I'll let you do the maths for the ladies. I have contacted the people at Guinness World Records, and am eagerly awaiting their reply to hear how they rate our record-breaking achievement.
It was a bit of a bleak, cloudy day with a temperature of 13 degrees forecast (it felt like five) and predicted rain approaching possibly late afternoon or evening. Our incentive for the walk was to beat the rain, and allow sufficient time for the promised wine tasting at Eagle Range Estate on the way home.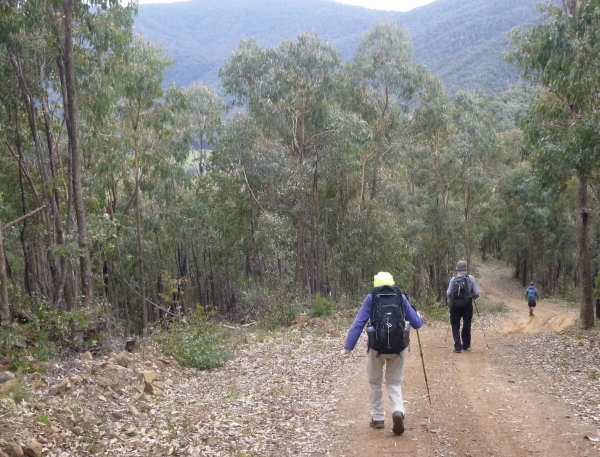 It's a fair drive from Wangaratta to begin the walk, and our first mission was to leave a car at what would be the end of our walk, Kancoona Gap Track, where a roadside stop exists. Google maps list this as the point where the Happy Valley Road changes its name to Running Creek Road. It was then on towards the plantation in Kancoona South. We took the opportunity to drive a little further first, and view Running Creek Castle. Best described by observers as one man's folly. But a delightful one at that.
Our starting point was just off the sealed road, on the edge of the plantation at Rolland Road, beginning at an elevation of 425m. For most of us beanies were the order of the day as we began our gradual ascent. This road bordered the edge of plantation, and state forest, for all this section. We encountered one muddy portion which was navigated well by all involved with no mishaps. This was surprising as Sandra and Sonia were with us today. A little further along, at about the 4.5km point, morning tea was taken.
We resumed our walk, and 300 metres later we were at the main junction where six tracks go in all different directions. The wind, which had now picked up, seemed to be able to blow in about four of those directions at the same time. Our track, the Kancoona Gap track, was of course, the steepest. So far, we had climbed steadily, and about 185m over almost 5km to be at about 610m in elevation. It hadn't been strenuous at all.
Things were about to change. Although by no means daunting, we were now going to be climbing steadily to reach a height of 753m over about 1.5km. Pat handed out the snakes by way of inducement for the next section of the walk. It wasn't a constant uphill trudge, with the undulating ridge providing respite at points. The group was walking faster than anticipated, and with about 4kms to go at the 6km mark, it was suggested that lunch could be taken at the main road where the first car for the shuffle was parked.
Forest trees partially obscured the views of Happy Valley on one side, and Running Creek on the other. There were no birds to be heard in the forest today. The cold had obviously killed them all. The one lone wallaby spotted was surely heading to a warmer place, probably a farmer's bonfire. My face was frozen, and yet my nose could still drip. How can this be? Geoff's beard looked like icicles would form any minute. Yes, it was getting colder.
About halfway along the track it descends about 70m before engaging you to rise to another peak of about 747m. This up and down continued for about 2km, until finally, the long descent over about 1.5km to the car at 573m. Yes, I own a GPS and I'm not afraid to use it.
A covered shelter and table provided us with a suitable lunch venue. Pat's welcoming cuppa was also consumed at this point and warming all up from the inside. The 10.2km walk was completed in about 3 ¼ hours. Congratulations to the seven walkers (did I mention 57% were men?) who decided against their better judgement to participate on a less than welcoming day from mother nature.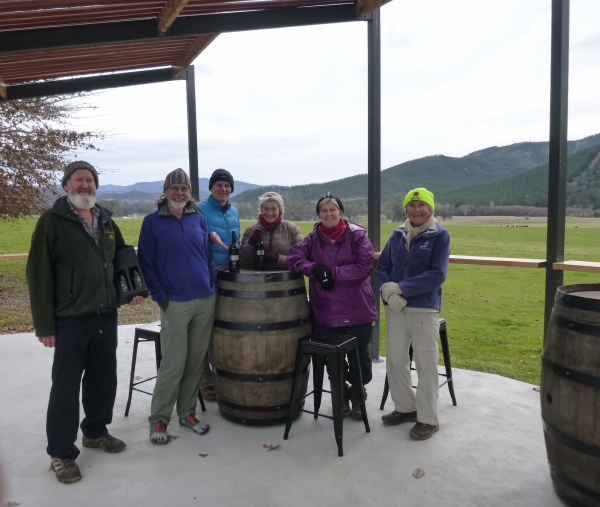 The journey home was rewarded with a visit to Eagle Range Estate wines.
The tastings of their cool climate wines were melting the frosty insides of today's walkers. Winemaker Frank was very informative, and we had our own special lecture on winemaking. Just don't ask about the egg whites. The views from the cellar door were amongst the best of the day, and so a group photo was demanded.
I can picture the scenarios in years to come. I imagine Geoff, Daryl, Paul, or myself telling fellow club members, friends, family, and even complete strangers on the street. "Yes, I was one of the 57% on that day way back in July 2022, when the men outnumbered the ladies on a WRBC walk. Would you like an autograph?"
Michael Braendler