The Kangaroo Hill walk at Eldorado attracted 18 participants, with five doing the shorter version (that is, not climbing the Hill), and 13 climbing the Hill.
The walk began opposite the pub, and general store, at Eldorado's Gun House Park.
From here, we cut across to Reids Walk, and then the swing bridge, and a foot track to Lonies Gap Road.
We followed Lonies Gap Road to Mulls Track, and had morning tea looking over what would be a waterfall if there had been enough recent rains (not on Saturday, but probably today as it has been raining all day).
After morning tea we continued along Mulls Track to an intersection with a foot track and took the left option, leading us towards Kangaroo Track. Crossing a small stream along the foot track and then Kangaroo Track, we turned right, followed a left hand bend and were at the base of the track leading to the top of Kangaroo Hill.
The track leading up to Kangaroo Hill starts off very rough and rocky before becoming an easy dirt/gravel road to walk upon. As mentioned, the challenge was taken up by 13 of the group who continued up the Hill to have lunch at the top with excellent views.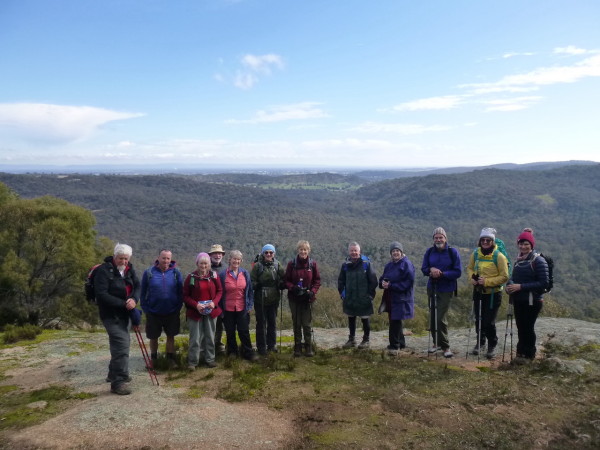 The other five completing the shorter version of the walk, and continued along Kangaroo Track to Mulls Track returning to the cross intersection, from which we turned left towards Reedy Creek.
Lunch was enjoyed seated on some fallen trees, before crossing the icy cold waters of Reedy Creek, and after drying off the feet, and returning to dry socks and boots (the feet never felt so good), we continued on a foot track, following Reedy Creek downstream.
We then went past the Top Cut Dam, and along the embankment created dredge works created during the gold mining days, through to McEvoy Drive, and returned to Gun House Park for a welcome afternoon tea.
Those completing the longer walk returned down the rough track of Kangaroo Hill to Kangaroo Track and followed the same path as the short walk group, but arriving about an hour later.
The longer walk came in at 15.2k on the GPS and the shorter walk at about 12k.
[Jeanette]