On the Saturday morning, ten keen walkers joined up to walk from the lakeside campground at Devil Cove via the Candlebark Nature Loop, and the Auriferous Spur – Jimmy Spur Circuit.
Candlebark Nature Loop was pretty, with luscious ferns and mining history, but before the real hard work began two members left to do their own thing, (I think the Pondage Walk, and the word market were mentioned).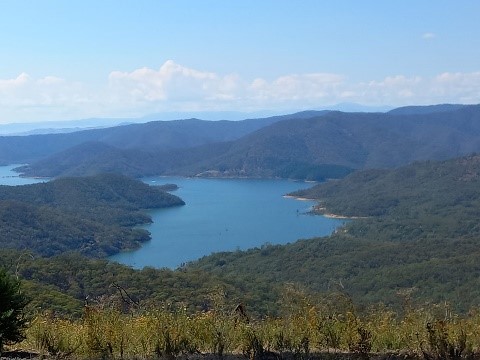 Meanwhile the team mean worked their way up Auriferous Spur in the heat of the day, and were rewarded by wonderful views.
Then it was down Jimmy Spur, and along to Devil Cove, and just because we could, we walked a little further to Merlo Lookout, and back to Devil Cove; total distance, 17.5 km.
The day was finished off with a meal at the local pub.
Sunday saw seven of us set out to find the track that leads to Mount Torbreck.
On the way we visited Snobs Creek Waterfall, and cascades, but then the fun began; don't rely on digital Maps.
After two false leads, we resorted to the art of actual map reading, and found where we were meant to be.
We walked in a kilometre, not trusting the forestry track, or the availability of parking, and once the trailhead was found, we had morning tea.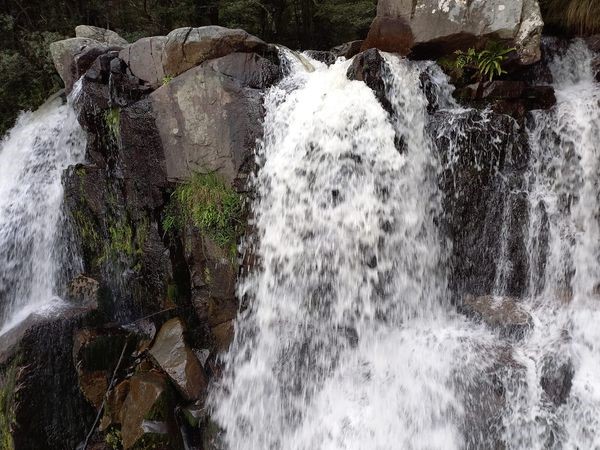 We also watched with interest as another intrepid walker relied on digital maps.
When he reappeared in his car, we set him right, and then followed the 4WD track to Barnwell Plains.
From here we joined up with two other walking parties to tackle the steep, and rocky, footpad up Mount Torbreck; total distance, about 8km.
Meanwhile two of our party had decided to return to their car.
Thank you to all who joined me at Eildon, I had a great time, and I hope you did to.
[Adele]