For this high country adventure, we set off on Sunday morning from Wangaratta, at about 7.30 am, stopped in Myrtleford to pick up a few more walkers, and then drove up to Mount Buffalo National Park.
The itinerary for the day had three different walks; all included sections of the "Big Walk", and to organise the walkers to get to and from the starting/finishing spots involved some car shuffling.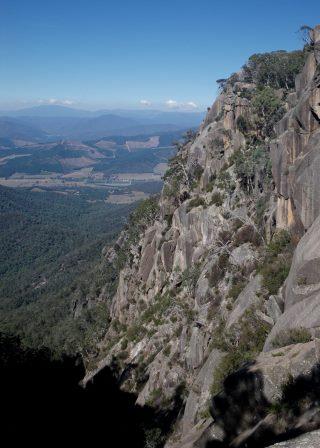 The longest and hardest walk started at the entry point, and ended up at the Gorge near the Chalet, completing all of The Big Walk, all 11km of it.
Those on the medium walk started at Rollasons Falls carpark, and walked up to The Gorge and back, also a distance of 11km, but a bit less strenuous.
The short and easiest walk started from The Gorge, and went downhill along the Big Walk, as far as Marriotts Lookout, then returned back to the top, covering about 8km.
As well, some of our walkers walked from the beginning of The Big Walk to the Gorge and returned to Mackeys Lookout, a walk of approx 17km.
The weather was perfect, with sunshine from a clear blue sky, views over many mountain peaks.
Some of the group came across people doing tight rope walking across the Gorge, which of course was spectacular to watch.
The walk ended with almost everyone having afternoon tea together at the picnic table at Rollasons Falls carpark. Another perfect Sunday.
[Marita]