Nine walkers, including one newie, completed the now classic 8km amble along the Ovens River flood plain, and beside the now world status Lower Ovens River (following the 2021 listing of the National Park by the IUCN).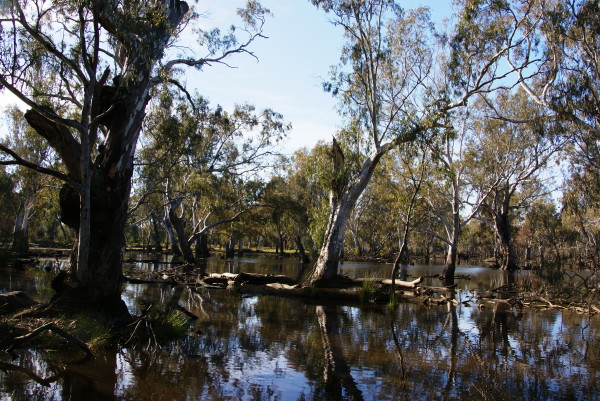 We followed the normal vehicle tracks on flat, but slightly slippery (after overnight rain), ground, starting at the end of Boundary Track, and then we hiked along Frosts Crossing, the Ovens Tracks and Boundary Track, in a circle back to our cars.
With this trip, we could view the different types of healthy "wetlands", ranging from a flourishing Red Gum forest, many water-filled billabongs, through to the swampy areas, and of course to our very clean river.
The vacant campsites we came across were very clean, and we stopped briefly at one in the Hill's Bend area for a "breather".
After a great short hike, in warm, and fine conditions, which took almost three hours, we enjoyed the now time honoured Pat's cuppa, accompanied by the usual scrumptious biscuits.
[Andy]