This weekend was originally programmed for Typo Station, in the Rose River Valley, but because of covid-19 restrictions, that event had to be deferred to next year.
The walks to the Clear Creek Waterfalls were quickly organised, and were each attended by 15 members, divided into two groups for the Saturday, and Sunday.
On Saturday, one group headed off along Old Coach Road (near Eldorado) to a vehicle track which would lead the way towards the Falls on Clear Creek.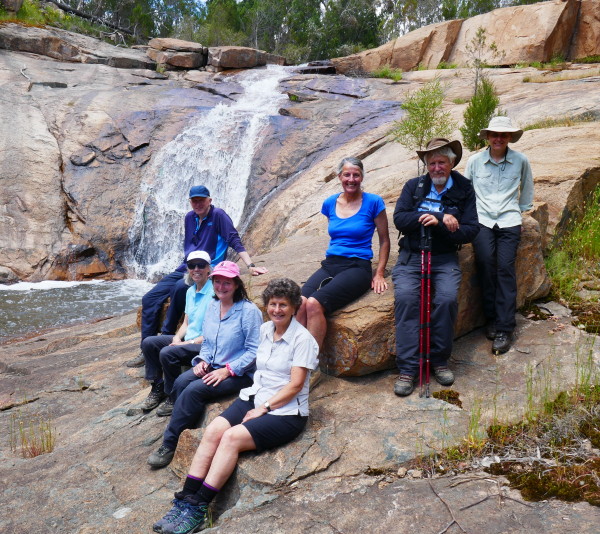 They had morning tea by the Falls, and then continued along the Creek, enjoying the cascades, before completing a loop to the vehicle track, and back to Old Coach Road, and the starting point.
Meanwhile the other group headed off along Ramsays Track, to Lonies Gap Road, where they met up with another bushwalking group who informed them of an additional waterfall to see, located a little further along Mulls Track.
This was excellent information to come across, and the group continued on, to the second waterfall, and then returned to the starting point.
When the two groups of walkers crossed paths, near the starting point, the information was passed on about the additional waterfall, and the two groups then proceeded on, to the other part of their walk.
Many thanks to Sara, and her navigation skills, having led one of the groups on Saturday without having completed the walk herself previously, particularly when part of this walk was off track.
On Sunday, Michael and myself led the walkers along the same routes, with morning tea held in the perfect spot for viewing the extra waterfall along Mulls Track.
The group then headed back to attend the waterfalls at Clear Creek for lunch.
BYO afternoon tea was enjoyed at the vehicles, at the end of the walk.
The Clear Creek Falls are well worth a look, particularly after the recent rains, and the wildflowers were out in abundance.
[Jeanette]