Two groups of walkers met at the Powder Magazine car park in Beechworth for what promised to be a satisfying day's walking. Nothing to do with makeup, the Powder Magazine building was built in 1859 and housed the gunpowder which was used during the prosperous mining days in the area.
Dividing the group into two groups of 10 was reminiscent of organising a class of year seven students, but finally achieved. My group of 10 walkers hit the trail a little after 9am, and headed for One Tree Hill.
Today's walk was the first time some had undertaken one for a while. Shirley was wondering about her level of fitness. Surely Shirley shouldn't suffer soreness shuffling some slightly steep sheltered sections. That's what I was thinking.
This first section is a pleasurable walk along a bush track through forest, with a small stream crossing the path as you gradually wind your way up to the top. From this point the group followed the well-defined One Tree Track towards Ingram's Rock.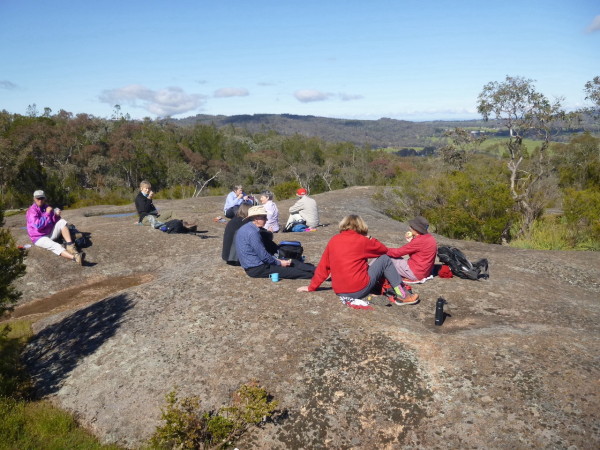 James Ingram was a well-known local identity. He established a newsagency, and helped found the Beechworth Hospital and Primary School. The large granite rock that now bears his name was chosen as a morning tea place because of the fine views overlooking the surrounding land. Towards the end of our break the second group, led by Jeanette, had arrived and so it was time for us to depart. Eventually.
Although knowing there had to be a short-cut somewhere, my group re-traced our steps back along the track before taking the sign towards Fiddes Quarry. We were now once again walking along a narrow bush track. The quarry was soon reached, and it was here where much of the granite for building was cut during the gold rush era.
Our next point of interest, The Precipice, is a lookout above the one-time goldfields. This vantage point provided some of the best views so far, and we all took in the scene before us. Sandi, who has been known to throw her cosy into her pack, was informed that the inviting ponds or dams we could see before us, were not the swimming kind.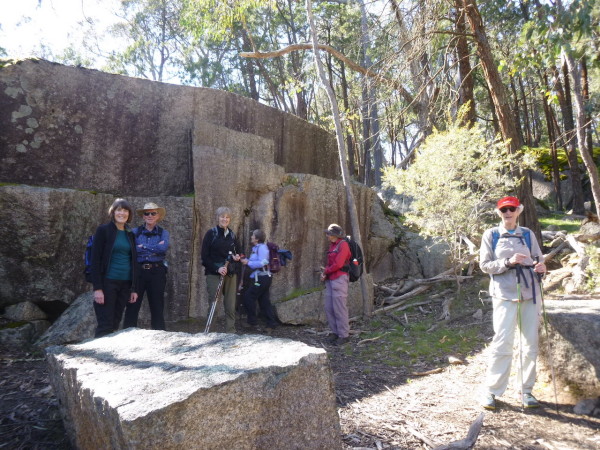 Prior to checking out this walk, the original plan from this point was to continue down a steep track, and towards the creek somewhere below the Cascades. However, a Parks Victoria sign said the track was no longer suitably maintained, and the bridge no longer existed. As I explained to the group, had we all been in out twenties I am sure we would have ignored all information and continued. Instead, and possibly more wisely, we followed a track which would take us back, all in one piece, to One Tree Track.
It wasn't long before we arrived back at the One Tree Hill car park where more afternoon visitors had now arrived. We proceeded back down the section we had earlier climbed towards Gorge Road. We followed this sealed road down to the bridge where decent seasonal rain meant that all waterfalls would be flowing well.
A sign from the road pointed us in the direction of the track, which would now follow Spring Creek. Shortly after beginning this section, I came face to face with a small goanna. It was climbing a tree just metres in front of me. Other walkers who were closely behind also spotted the goanna as it proceeded to rapidly ascend the tree, and then stretch across to another higher tree which provided better camouflage.
A little further on we reached the Cascades where a brief look was on offer before continuing. Once down the hill we were now in Woolshed Valley which was home to thousands of miners during the height of the Gold Rush in the 1850's. The area still has many deep mine shafts on either side of the track, so a hazard for exuberant children, and absent-minded bush walkers.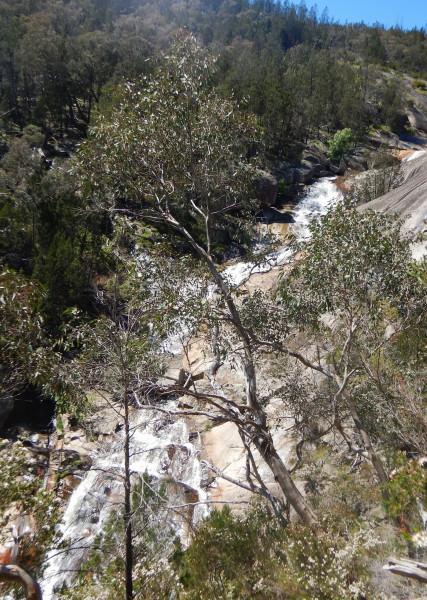 The earlier rapid flowing water of Spring Creek now transformed into a pleasant quieter movement. This section of track was boggy, and sodden in places. New member Carolyn tested one area by demonstrating it was up to ankle depth. Diversions around the usual track were now appropriate.
A couple of turnstiles on farming property later, and we were soon nearing Woolshed Falls. Just as you approach the Falls, the gorge that the river runs through has some good views. Upon arriving at the Falls, lunch was taken at a nearby table, and surrounding grass areas.
On today's walk we welcomed Heather, who is originally from Scotland. Over lunch Carmel and I discovered Heather can do pretty good English accents, including singer Adele's cockney-like speaking voice. I think her next impersonation should be Adele's singing voice.
The warmer weather had many visitors to the area today. Jeanette's group was not far behind us, and they made their way to the Falls for lunch. After lunch, my group of walkers proceeded down to the Falls for some photo opportunities, before heading to the viewing platform for paramount views of the Falls. After nearly an hour here it was time to head back to the cars, but as a group of eight, as two walkers would be leaving our company.
The return walk was back the way we had come. Sometimes walking in the opposite direction seems different. I don't remember climbing over that tree. For others it was "where did that steel bridge come from?" It was also interesting to note how people observe things and pass that on to others. I would usually point out to others at a safe observation distance a newly swarming hive of bees. But that's just me.
Our final ascent needed some incentive, and so the Allens snakes made their usual appearance. Approaching the Cascades for a second time, I encouraged everyone to a point where we admired the Cascades for a few minutes. From here we made it back to the bridge, at which point the second group once again began to arrive. Walking along the sealed road again to the cars we completed the 17km walk, with a final Allens snake offering, and afternoon tea courtesy of Pat.
Michael Braendler.