Several walks on the weekend of the 2nd and 3rd of October were organised to celebrate the IUCN "greenlisting" of WONP, which now has international status (first national park in Victoria to achieve this status) plus our Club's 40 plus year birthday!
The main aim was to walk our beloved Warby Range over one weekend. Despite an ominous weather forecast, the rain held off until some of us started to descend Mt Glenrowan at 4pm on Sunday, after covering 40 plus kilometres!!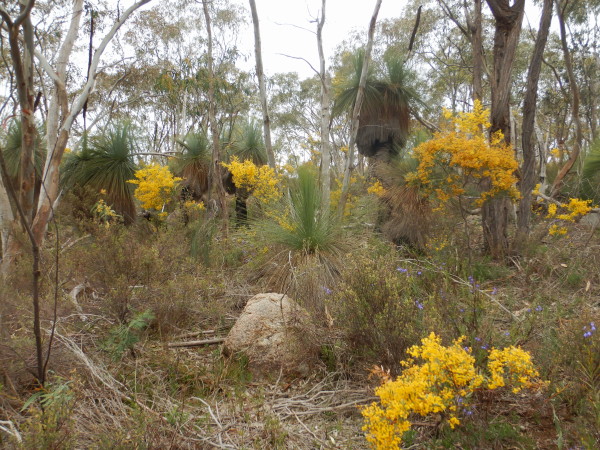 Saturday, 2nd – Warby Range North to South, Part 1.
This hard walk of 22 kms, started from the Boweya Rd/Tower Rd intersection, and headed south. However, if it wasn't for new member Tracy, and her partner, we may not have got to the nominated starting point, as there was a large tree over the dirt road.
We set off towards Mt Killawara for morning tea, and once there the sun was shining, and the views were great. Next stop was the Spring Creek picnic area for lunch.
Once we reached Wangandary Road, some walkers left the event, after trekking 14.6 km. The rest of us continued along Logger's Lane towards Wenham's, with rain jackets used during a very brief shower.
Sunday, 3rd October. Warby Range North to South, Part 2, Wenham's Camp to Taminick Gap and Glenrowan.
A substantial group of walkers in two pods, covered most of the rest of the Warby Range from Wenham's to Taminick Gap. Morning tea was taken at a gorgeous rocky spot off Spot Mill Track, looking over great views to the west.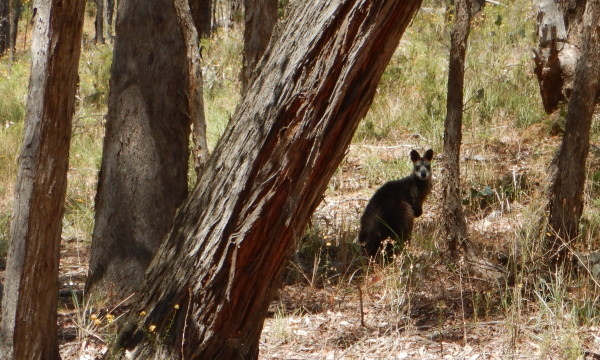 Lunch was enjoyed at another rarely visited rocky outcrop, just before we entered a small piece of private land. Permission being obtained for the last amble down to Taminick Gap, where many cars were waiting.
Then a small number continued on to Mt Glenrowan, and down to Morrison's Winery as the rains arrived, with two brave souls – Jeanette and Sonia, being the only club members to cover the 40 plus kilometres in two days!
[Andy]