Meridian Maps has produced a new map of the popular Pyrenees Ranges, in western Victoria.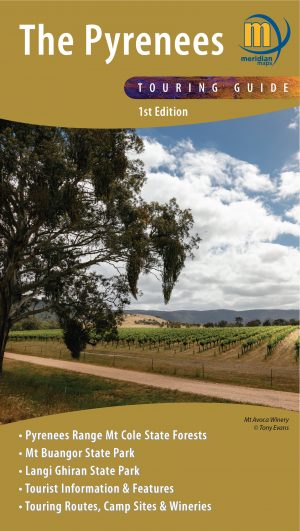 For the first time the entire region has been mapped on a double-sided 1:50,000 scale map, covering The Pyrenees from Beaufort to Redbank, and from Navarre to Avoca.
The map is ideal for bushwalking, and highlights all the tourist activities and features of the region such the wineries, historic areas, picnic grounds and more.
It also includes the long distance trail Pyrenees Endurance Track, and an enlargement of Mt Buangor/Mt Cole, and and all of the walks in the area.
The map also includes pet-friendly campgrounds, accommodation, local produce, petrol stations, waterfalls and more tourist information.
This great new map is available in Folded/Flat format – $14.95, and Laminated and Folded/Laminated $26.95.
It is also available in Digital versions, and in Map Packs.
More details at meridianmaps.com.au/product/the-pyrenees-touring-map/