On a perfect winter day we ascended the Murmungee Escarpment near the rail trail at Everton. Our walk was led by Anne Turnbull, and a local landowner, whose property includes grasstrees growing in abundance.
After a brief car shuttle, we set off, and had morning tea overlooking a beautiful landscape, including a very interesting ridge system, and views all the way to the Glenrowan Gap.
We then headed further along the escarpment, where there were many opportunities to view different angles of the Murmungee Basin, Mount Buffalo, and snow on Mount Feathertop.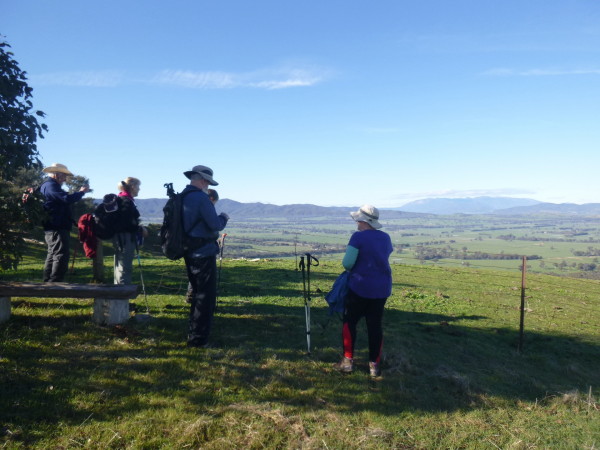 We continued along a track back down to Diffey Road, then onto Zig Zag Rd, before climbing to Murmungee Scenic Reserve, at the top of the Escarpment, to eat our lunch.
We then commenced the long descent down the historic Zig Zag Trail on the south side of the Escarpment.
This took us to down to Zig Zag Road, and then the floor of the Basin, where we had an easy finish on a roadway.
The final highlight of the day was refreshments, and Pat's wonderful cuppa.
The weather was really good; no rain, and plenty of sunshine.
We had 25 participants, and covered about 15km in six hours.
See bowmansforestmurmungeehistory.com.au for more details on this historic area.
Jeanette