This was an interesting variation on a tried-and-true venue, involving a loop down to Moonlight Track via Casuarina Track on the way to Mount Glenrowan.
On a very cool morning, we met at Rotary Park at 8.30am, organised car pooling, headed off to Taminick Gap, and started walking at about 8.50am.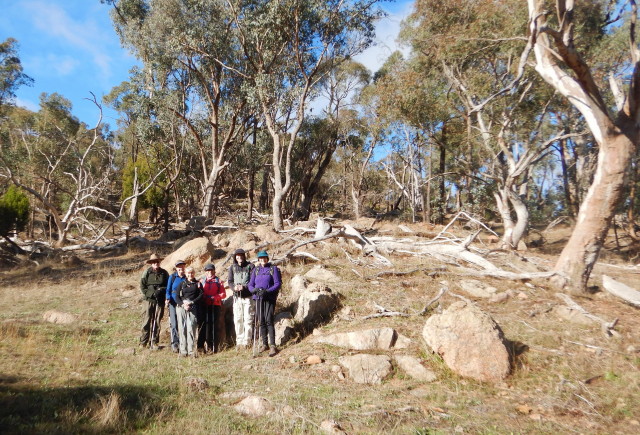 There were seven of us on this medium-hard adventure, and the distance planned for walk was about 14 kilometres.
Setting off, we walked along Ridge Track, to the Casuarina Track turn-off, where we headed west, and then started an off-track descent down to Moonlight Track.
A few kilometres on this scenic pathway took us to a collection of rocks, where we had a quick morning tea (too cold for loitering).
We now followed a Moonlight Track to where it swings to the east, and starts a steep climb up to Ridge Track. On the way we came across a prosperous looking wombat – doing what wombats usually do, but not at night time.
Having made it to Ridge Track, we followed this through to Morgans Lookout (Mount Glenrowan) where we enjoyed a scenic lunch.
Returning back to the cars via Ridge Track, Michael introduced us to an interesting detour that leads off to the left, skirting around the west side of the main track. We had walked past this track opening many times, but never had the motivation to check it out.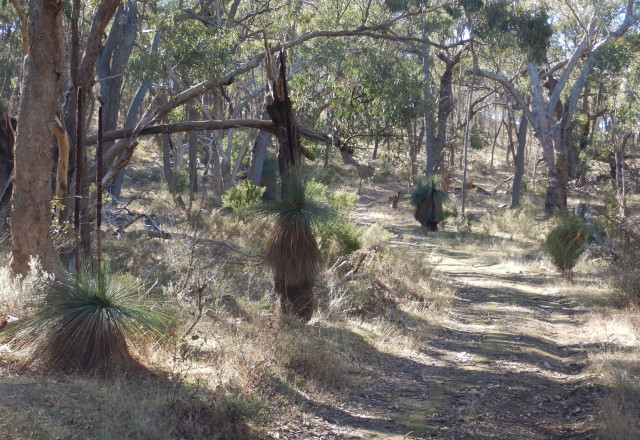 Despite murmurings about that famous quote from Dante Alighieri's Divine Comedy ("Abandon hope, all ye who enter here") we emerged safely back onto Ridge Track, having enjoyed an interesting single-file pathway.
We then continued along Ridge Track for the remaining 1.4km to the start, passing the entrance to Casuarina Track on the way.
After a quick afternoon tea at the car park, we headed back to town, and were home at 2.30pm.
Weather for the day gave us early morning fog in the surrounding valleys, and it was mostly cloudy, with some bursts of sunshine, the maximum temperature being about12C.
[Chris M]