On this interesting wetland walk, eight walkers headed off from the corner of Phillipson Street and Cambridge Drive, towards the Ovens River, and then proceeded to walk leisurely upstream for about six kilometres.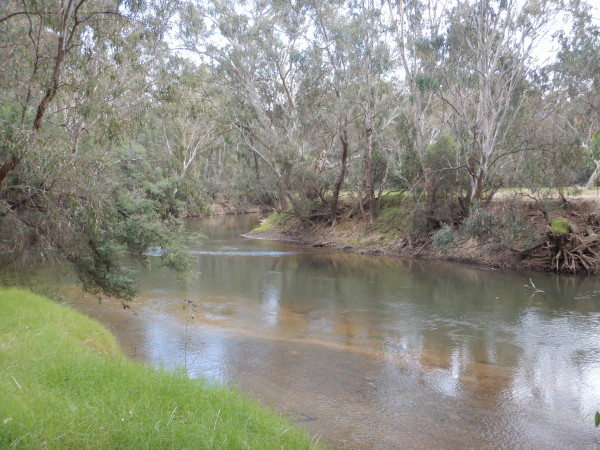 We also circled around the superbly restored Mullinmur Billabong area, where brand new explanatory boards give the visitor an insight into the now protected natural systems.
Locals do not have to travel far now, to enjoy the delights of our special river from the well developed tracks and paths, stretching from behind Cambridge Drive, right though to Apex Park along the Northern Beaches Track, the Bullawah Trail, and then back along the King River.
Our group surveyed the great work of the Rural City revegetation experts, and Landcare volunteers, over the last few years, and spent time identifying various native plants  which have recently reappeared.
---
Coming Events
Sunday, 16th May. Mt Glenrowan, via Casuarina and Moonlight Tracks, Warby Ovens NP
Chris, 0418 503 802
A medium to hard walk starting along Ridge Track, followed by Casuarina and Moonlight Tracks, before returning to Ridge Track, prior to reaching Mt Glenrowan. Walking on bush tracks, with some steep sections, and a short off-track section. Excellent views along the way, and from Mt Glenrowan.