Two different groups headed towards Mount McLeod on this high country adventure; the day walk group had 12 attendees, with participants from as far away as Deniliquin, Yarrawonga and Corowa, and there were four of us on the overnight camp.
However, both groups took the 'shortcut' that is close to the start of the walk, as an alternate route in lieu of the Mt McLeod Fire Track. This shortcut was a picturesque bush track, with fern gullies, and a creek crossing mostly managed with a large step, or small leap.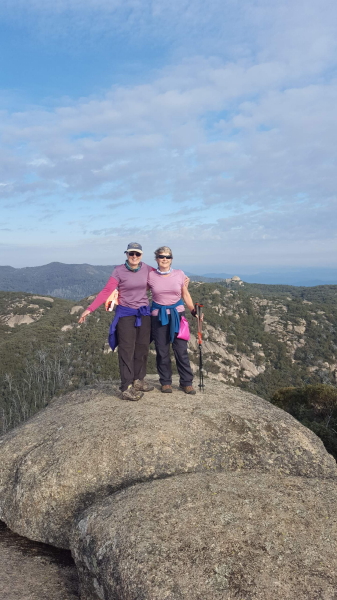 Once at the campsite, the day walkers enjoyed lunch before attempting the climb to Mt McLeod (unfortunately, the views were marred by the smoke haze from burning off that weekend).
The four overnight walkers (with packs, en-route to the campsite), met up with the day-walkers as they returned from Mount McLeod, and after a quick catch-up, both groups continued on their separate ways.
At Mount McLeod, the "overnighters" set up camp, with the Taj Mahal of tents taking pride of place in the camp.
Dinner was enjoyed under the starlight, followed by a swig of ground softener prior to retreating for the night.
The stars and moon lit up the night sky, and after a hot brekky, in chilly conditions, Mt McLeod was climbed, with a rock scramble to reach the top. The 360 degree views were once again marred by the smoke haze from fuel reduction burns.
The camp was packed up, and the return trek began, following the Mt McLeod Fire Track all the way. A late lunch at Crystal Brook then ended this Grade 3 walk (Australian Walking Track Grading system (see https://warbybushwalkers.org.au/wp-content/uploads/AWTGS-1.pdf).
---
Coming Events
Sunday, 16th May. Mt Glenrowan, via Casuarina and Moonlight Tracks, Warby Ovens NP. Chris, 0418 503 802
A medium to hard walk starting along Ridge Track, followed by Casuarina and Moonlight Tracks, before returning to Ridge Track, prior to reaching Mt Glenrowan. Walking on bush tracks, with some steep sections, and a short off-track section. Excellent views along the way, and from Mt Glenrowan.
Saturday, 29th May. Whitebox Walking Track, Chiltern. Chris, 0418 503 802
An easy loop walk of approx 9k on bush tracks in the Box Iron Bark forest of Chiltern-Mt Pilot National Park. The park is known for its mining heritage, and is popular for birdwatching.