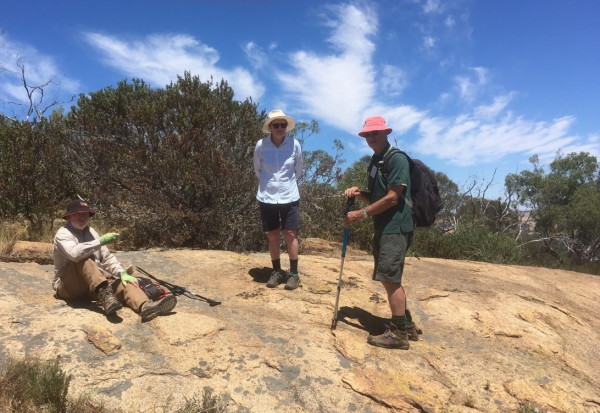 This was a 12km loop through the beautiful bushland at the northern tip of the Warby Ranges, and was a new venue for the club.
The top temperature predicted was 27c, and we had an interesting blue sky, with a nice cooling breeze.
The route was immaculately researched, by Jeanette and Michael, during the springtime, and what a great walk it was.
We met at Rotary Park at 9am, and from here we travelled in convoy out to the Warby Ranges.
There were 17 club members on this adventure, and setting off from the intersection of Warby Tower Road, and Boweya Road, we followed Jeanette's mud map meticulously, making a wide loop around Mount Killawarra.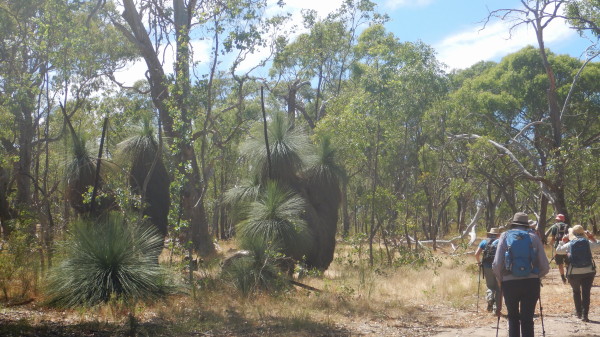 Morning tea was taken on a massive granite slope, and from here we curved around to the Mount itself for lunch. There was enough shade here for us to take cover, particularly under those gorgeous Spur Wing Wattles.
The views from the Mount were very impressive, and we could clearly see Mount Cobbler, the Wabonga Plateau and Mount Buffalo.
We were back at our cars just after 1.30pm, nicely timed so as to avoid the warmest part of the day.
This was our last walk of 2020, and the next walk is at Beechworth on January 10th; see the Walks Program for details.
Chris M