This was our first walk of the New Year, and was to have been at Beechworth (Lake Sambell to Lake Kerferd) but that was cancelled due to a continued track closure (since the winter of 2020) by Parks Victoria.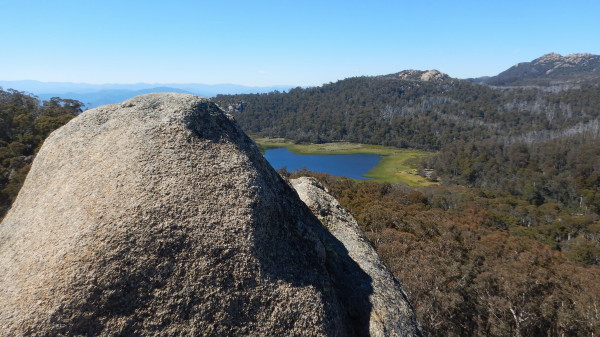 This was caused by safety concerns for the grill structures that protect the various mine shaft relics on the track to Lake Kerferd.
So, the new agenda was to head for Mount Buffalo, and given how hot it was down in the valley, this was a good move, regardless of the track closure mentioned above.
We met at Rotary Park (at 7.45am), organised the car pooling, and headed off to the high country via Myrtleford. Here, we met up with club members, and guests, from Myrtleford, Whorouly, Murmungee and Beechworth.
Our starting point was at the entry to The Monolith Track (opposite the Parks Victoria depot), and from here all 22 of us headed up to The Monolith for morning tea.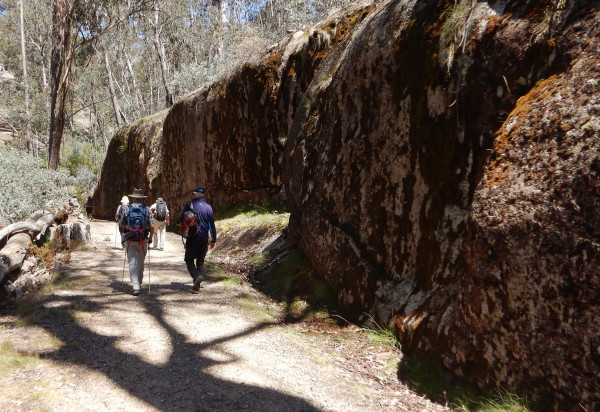 The fairly steep track, with a number of rock steps, and then a metal stair to the top, was easily achieved, and the views were amazing.
The backdrop to the view was that gorgeous blue haze, typical of the mid-latitudes right around planet earth, and this was a memorable spot for refreshments.
A plaque on the rock commemorates the first ascent of this monster by Edward Carlisle, way back in 1893.
We then continued towards The Chalet, and joined a large number of tourists who were enjoying the spectacular views. As well (I have to mention), a few people took advantage of the mobile coffee van situated in the carpark!
After about 20 minutes here, we continued to Lake Catani, just in time for a midday lunch on the shores of the Lake. A few begging ducks joined us, and were rewarded with nibbles.
The Lake was also a busy place, with plenty of kayakers out on the water, and a few swimmers. We didn't have our kayaks with us, but that did not stop a couple of avid swimmers/walkers taking a dip.
After an enjoyable lunch at the picnic area, and consultation with some topo maps, we split into two groups, one of 14 walkers, and one of eight.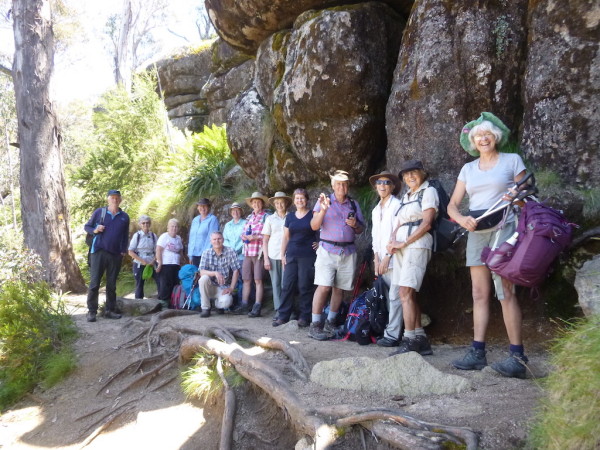 The group of 14 adventurers set off to tackle Chalwell Galleries, and the eight meandered around to the Grossmans Mill picnic area, and then returned to the cars via the Lakeside Walk, and the south side of The Monolith.
We regrouped at the cars, and enjoyed afternoon tea in the shade, followed by the drive home.
Mount Buffalo is an amazing venue for bushwalking, not only for its high country scenery and vegetation, but also the profuse collections of contorted boulders that we came across everywhere that we walked.
Another advantage is that the temperature is usually about 12 degrees lower than Wangaratta, so a great venue on a hot day.
Chris M