The walk on Skeleton Hill, in Chiltern – Mount Pilot National Park, is a new venue for the club, and proved to be a very interesting, and enjoyable, adventure.
As usual, we met at Rotary Park, and then travelled in convoy to the start, the junction of Skeleton Hill Track and Lancashire Gap Road.
The distance planned for the walk was about seven kilometres, and we had a temperature of about 27c, with a blue sky, and some high cloud.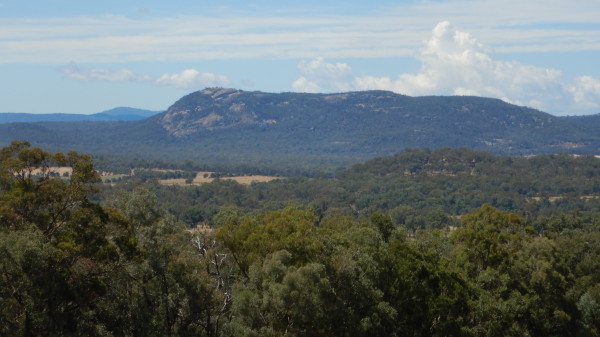 From the start, we set off up-hill for about a kilometre, and then had morning tea, sat on some rocks, with great views to the west.
Continuing on, we checked out the spur track at the south-western tip of the ridge, and then returned to the main track.
Swinging around to the south-east, we had great views of rolling hill country, and were soon back at the start, where we had lunch.
Walking time was about two hours, and we enjoyed the ironbark forest, and its collection of wildflowers and wildlife (wallabies, a goanna, and an eagle).
This was an easy walk that could easily be repeated, maybe including Koala Track, so as to make the walk about three kilometres longer.
Many Thanks to Rae for organising a litter collection bag; we filled a shopping bag with cans, bottles and soft drink containers, all left by careless users of our glorious bushland.
Chris M