On Sunday December 6th, it was a glorious sunny 25 degrees, accompanied by a gentle breeze, and the makings of a great day for bushwalking. Unfortunately, this was happening somewhere else on the planet, and not at Mount Buffalo. Instead, sixteen foolhardy walkers braved the elements to walk the Mount Buffalo Plateau, taking in Mt Dunn and The Monolith.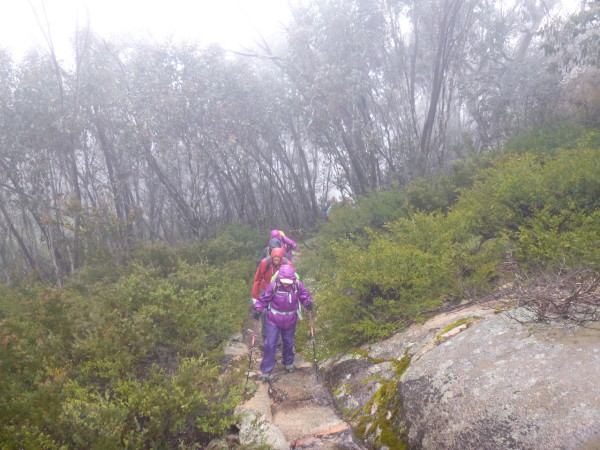 From the park entrance, our approach up the mountain was welcomed by brief sunshine, and blue sky. Sadly, this was a last-minute tease in an effort to put our minds at ease. The Eurobin Lower Falls were at their best as we continued upwards. Reaching the top, we parked our vehicles near the Park Office at Reservoir Road.
We ventured out of the warmth, and dry car interiors, into the cold and wet that was mother nature. Scrambling for wet weather clothing was hurriedly undertaken, before the mandatory walk briefing and introductions. On this occasion we welcomed new walkers Allison and Maureen (Mauz).
Reservoir Road is a dirt road that follows alongside Crystal Brook, and passes the Mount McLeod turnoff, before reaching the Reservoir parking area, a little over 3km away. As the rain had stopped at this point, it was the optimum opportunity to have morning tea.
The length of morning tea is usually measured in what I call "apple time". Nothing to do with the hi-tech company, but simply how long it takes Pat to consume her apple before departing. And before long we were soon on our way towards Mount Dunn.
The showers had once again resumed, and it was around about this time that numerous walkers, including myself, began noticing the sensation of soggy socks. Mental note: it's time to waterproof the boots again. Wildflowers were still blooming, and though I am no expert, I did notice at least four yellow varieties, three purple kinds, and a pink one.
Birdlife was out in relative abundance today with Rosellas, a Black Cockatoo, something resembling a Raven and Kookaburras amongst those spotted. Walking along this track in rain and wind, I found it difficult not to take the laugh of the Kookaburra personally.
The Mount Dunn turnoff was a 500m return walk. Decisions needed to be made. At this point in time, rain now turned to something known as "sago snow" according to Adrian. I know many people use Google or Siri as a resource, but personally I prefer Adrian. Sago snow is something in between rain and hail. Most of us were in awe of being lightly covered in these slightly frozen white pellets.
Being group leader, I half-heartedly offered to take any interested walkers up to Mount Dunn for a higher view of grey clouds, more penetrating precipitation, wild wind-blown trees and the threat of tumbling on slippery rocks. Secretly I was hoping for no takers.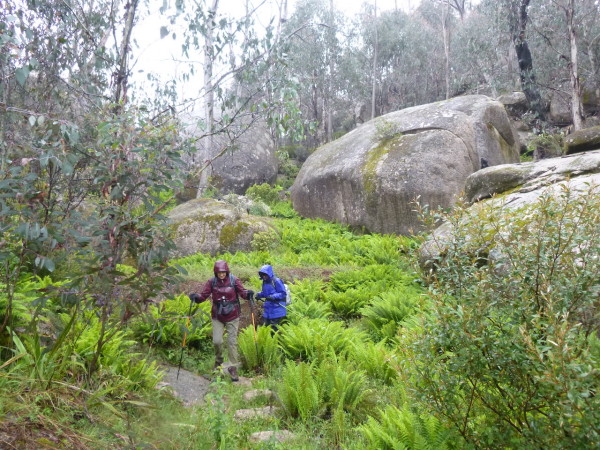 There was, however, a moment of almost sheer madness when a number of walkers seemed to think that this was an idea of merit. Not mentioning names, but Sandi, Sonia, Raelene, Lyn and Mauz needed their heads read. Thankfully something prevailed, possibly common sense, or making the national news in a tragic headline. So today, Mt Dunn would not be done. All walkers wisely opted for the continuation towards Lake Catani.
Past Mount Dunn we encountered a lovely section of the walk covered with bright green ferns, and large granite rocks. This section of the walk then becomes part of the Long Plain Walk that follows Eurobin Creek. In less than a couple of kilometres Lake Catani came into view, and Mount Buffalo Road was soon reached. Lake Catani, and the four picnic tables, presented the best option as a lunch spot, as the rain once again retreated while we rested.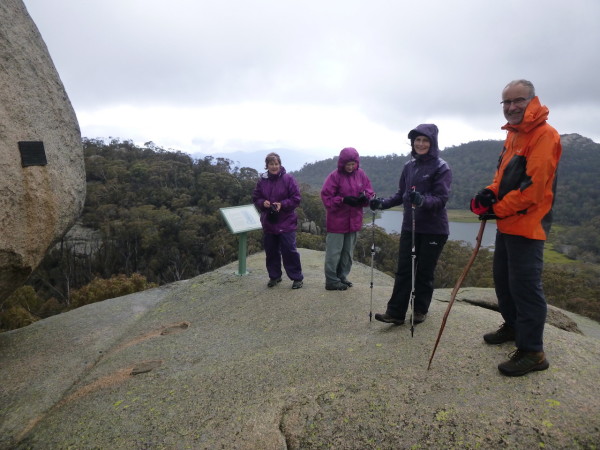 The surface of Lake Catani had a mist blowing across the top at times. Brief patches of sunshine warmed us, and dried jackets and gloves. A local resident, some sort of obviously well-fed duck, accompanied me for my lunch at our groups table. The rain was about to resume once again, and so the obligatory group photo was hastily taken, and before you could say, Duck a L'Orange, with a side of herb roasted chat potatoes and greens, we were on our way again.
The next kilometre was walking alongside the lake towards the weir. Both the Reservoir and Lake are currently at capacity, with the plentiful recent rainfalls. This makes for all of the creeks being healthy with ample flows. Once past the weir, it was a turn towards the Chalet along one of the most popular short paths in the park.
One hundred metres off this track, a viewpoint provided an opportunity to take in the sights of the eastern side of Mt Buffalo. Today though, it was a view of grey clouds, more penetrating precipitation, wild wind-blown trees, and the threat of tumbling on slippery rocks.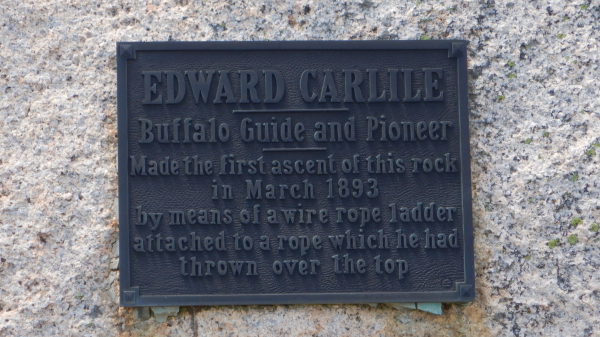 We re-joined the track, and soon met our Monolith turn-off point. This section of today's walk had the greatest number of fallen trees to climb over, crawl under or hurdle, depending on your level of agility and flexibility.
At the base of the Monolith backpacks and poles were left behind, while the short ascent was made towards the top of the large granite boulder. This provided some of the best photo opportunities for the day. The fierce wind didn't allow for a more leisurely sojourn however, and once photos were taken it was time for the descent.
Once down, and backpacks back on, we retraced our steps back a little, and made the final few hundred metres towards the cars. As rain continued to fall, group members hastily said their farewells for the more inviting cars.
Today's walk was a total of 13.1km, and was completed in just under 5 hours. Thanks to all who participated, and fingers crossed we attempt this again in more favourable weather.
Michael Braendler