The intended walk for Saturday 17th October was held over to the next day, due to wet weather, and so, on Sunday the 18th, twenty walkers, ten in each pod, were booked into the walk at Mount Meg Conservation Park, near Thoona, in brilliantly cool, but sunny weather.
Mount Meg has no tracks other than animal tracks, and requires plenty of log and rock jumping, and scrambles through bush and woodland for walkers.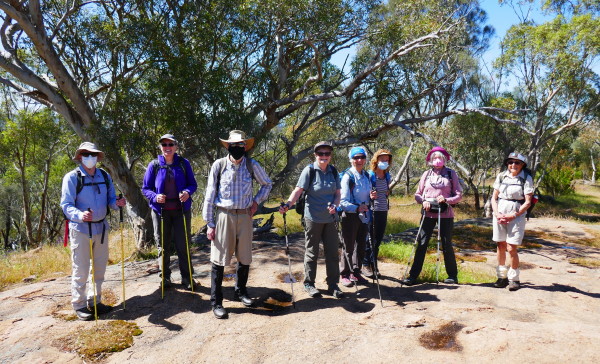 Participants observed plenty of wildflowers, and while there was evidence of kangaroos, wombats, echidna and other fauna, only one large wallaby was sighted.
Some deer damage to trees was also noted.
Perhaps the highlight for us, were discoveries of ancient aboriginal rock wells, carved over centuries to provide reservoirs for essential water supply, for former occupants of the country.
Views across lush green fields of wheat, canola and other crops, added to the interest in this walk.
The Mount Meg Conservation park is a relatively hidden jewel in our district.
[Adrian]
The next walk is to the Killawarra Forest on Tuesday 27th October, led by Chris. 0418 503 802