As usual during the pandemic, we met at Rotary Park for this walk, and then travelled in convoy to the start, at the Forest Camp, Killawarra.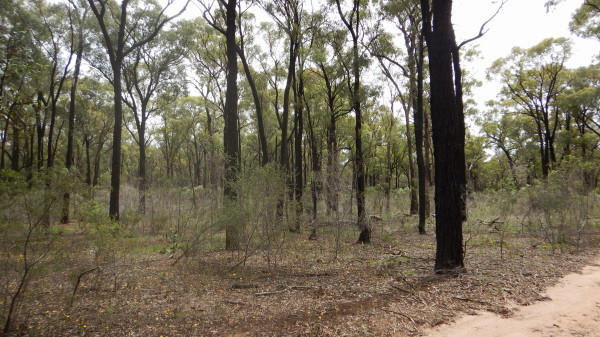 The distance planned for the two walks was about eight kilometres (2 x four kilometres), and we had a warm, and humid day, with a grey/blue sky.
The eight of us had morning tea in the gazebo at the Camp, and then headed south for the first of our two loops, a designated wildflower walk that lead off to the south from the Camp.
Walking time was about an hour, and we enjoyed the ironbark forest, and its collection of wildflowers.
Lunch was held back at the gazebo, and then a smaller group headed off to the north for the second loop, also about an hour in duration.
This route followed forestry tracks, passing through some beautiful stands of ironbark, and crossing Irishtown Creek.
Both loops are rated as easy, and the day went well except for a navigational error.
Despite my DNA swab showing 60% Viking ancestry, I managed to miss a turn-off on the first loop, and so the distance covered here was about 3.1km, instead of the intended 3.7km.
Chris