Magpie Creek Historic Area adjoins Wooragee, a formal gold mining town, and is located about eight kilometres north-east of Beechworth, with many interesting relics from those boom years.
The Beechworth-Yackandandah railway line was opened in 1861 (closed in 1954) and this walk covered several aspects of this history; that is gold, and the railway.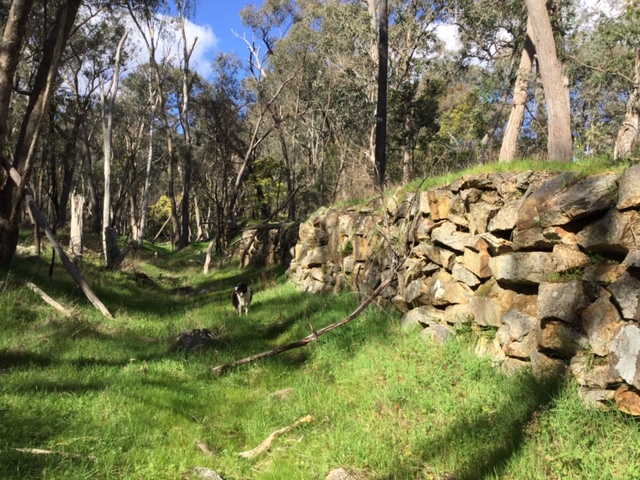 A total of 17 walkers attended the walk, along with three local history experts; four members completed the short walk, accompanied by a local history expert, and 13 members, divided into two groups, completed the long walk.
The walk startied at the Wooragee Primary School, on the Beechworth-Wodonga Road, and then progressed along Factory Lane, Fanning Lane and Birtles Lane, enjoying the rural landscape, to the Magpie Creek Heritage Area (MCHA), a distance of four kilometres.
The faster group was led through the historic area by Cecily Fletcher, passing the picturesque Chinaman's Dam, and onto the heritage listed rock walls, built by the Chinese miners, a distance of about two kilometres.
Gerri Boland led the other group through the Heritage Area, arriving at the MCHA shortly after the faster group.
June Brown led the shorter walk group through the historic area, in the company of two local experts.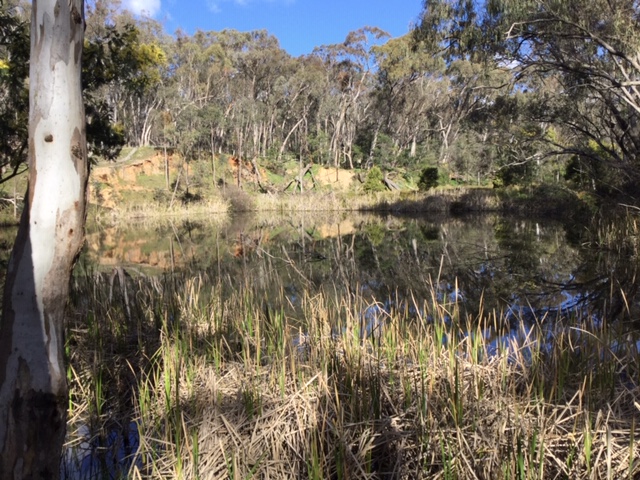 We all enjoyed morning tea/lunch at the rock walls, taking care with physical distancing, as per Covid-19 regulations.
A local farmer allowed the walkers, heading back to Wooragee Primary School, to walk through his paddocks, which shortened the return distance.
We had all returned to the school by about 12 midday, so it was a 3.5 hour walk, ideal given that the weather was warmish, with a maximum temperature of 27C.
The only challenge was the crossing of Magpie Creek, inside the Heritage Area, which we all managed without mishap.
There is no signage, or defined tracks, in the MCHA, and someone with knowledge of the area is needed to lead a group.
Gerri Boland
[See the Victorian Heritage Database (https://www.heritage.vic.gov.au/about-heritage-in-victoria/victorian-heritage-database) for more details on the Heritage Area.]