The first mid-week walk since COVID restrictions began to ease for regional Victoria, the second time round, was enough to encourage fourteen walkers to stretch their legs. A cloudy day, with a forecast temperature of 12 degrees, with no rain on the radar, would make the planned 12.5km walk agreeable.
The destination was a short drive from Wangaratta towards Peechelba and the Warby Ovens NP at Killawarra. The loop walk involved walking around the billabongs, small creeks, the Ovens River, some mighty old trees and birdlife. With this walk having no elevation to negotiate, and some fitness levels below par, quiet collective sighs could be heard through face masks, which I am sure were also concealing huge smiles.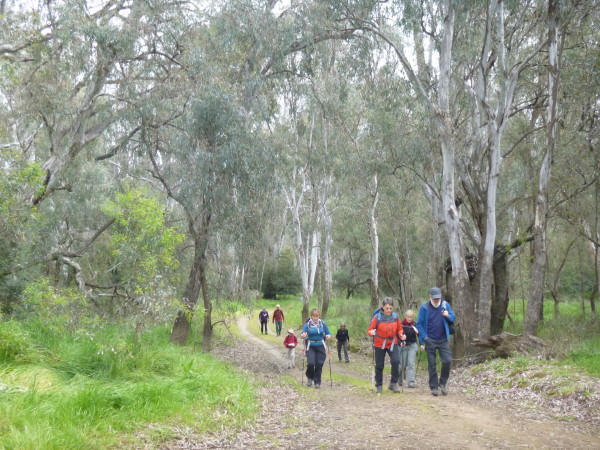 As with most walks there should always be some element of mystery or surprise. We ended up with both. The first was that it was a mystery as to how a medium sized walking group, all with maps, can walk past the first required turn off.
The second, is it is genuinely no surprise when you consider all of the walking, talking and gawking that was happening prior. If anyone believes in reincarnation, I am sorry to have to tell you this, but we are all coming back as sheep.
This navigation mistake started to make the natives restless. One mildly agitated Scandinavian, who shall remain nameless until the next sentence, suggested morning tea. That was decided, and taken welcomingly by Marita, and the rest of the group. The nearby Boundary Creek at Frosts Crossing Track with huge logs for seats, made a most comfortable place to rest.
The group retraced its steps back to the earlier missed turn, which later led to Yellow Creek Track. A short link track in an eastward direction enabled us to join Niklaus Track, and finally the Ovens Track. Lunch was taken nearby at Gravel Point, a popular spot with its sandy-muddy beach. After lunch, it was along this section that we walked alongside the Ovens River for a few kilometres. In places the river is quite impressive in its width and large river gum trees. Despite being rather cloudy, occasional patches of sunshine allowed for picturesque reflections off the water.
We passed Cod Point which should be renamed. Evidence of fishing had occurred, with half a dozen rotting carp on the bank. Fortunately, our group was well satisfied with our lunches. It is evident what these tracks would be like in truly wet weather. Signs of vehicles churning the track into rather slippery and boggy areas in places would make this area unmanageable. Trees in the park exhibited signs of floodwater levels on their trunks. If caught in floodwaters, it would be deep enough to necessitate a dog paddle in the very least.
The cooler weather had the advantage of keeping mosquitoes at bay, and snakes away. The white cockatoos however were a different story. As a bird they do not have a lot going for them. Despite being part of the parrot family, they missed out on the glorious colours, and a musical bird call. Instead they are plain white with a patch of yellow feathers on top, and that ear-splitting screech. I think they are the human equivalent to a loud punk rocker with a mohawk. Even the raucous storytelling, and carrying on, of siblings Sonia and Sandra were not enough to drown out the cockatoos, despite their best efforts and risqué conversation. Some of which might make a white cockatoo blush, and give it some colour.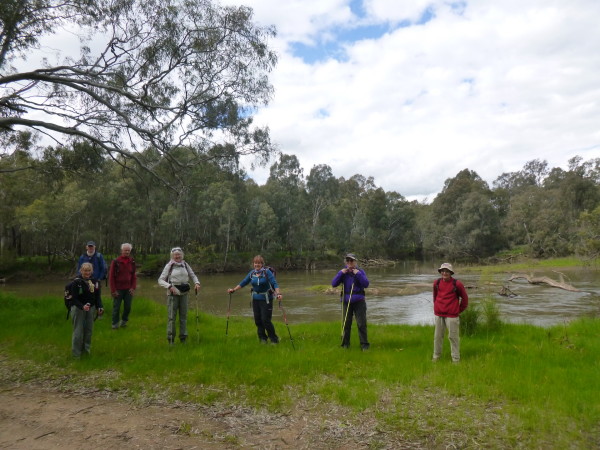 Future concerns over used masks, and their disposal have been solved by ladies in the group. It would appear that they will make adequate swimming costumes, or underwear. A perfectly sustainable management plan rather than adding to landfill.
Mask size was also a topic of conversation. Some group members have worn particular sized masks in respect to the ratio of their faces. This led to their size being likened to the granny pants mentioned in the Bridget Jones' Diary movie. Still, better to be safe than sorry.
After some 14.6km in under 4.5 hours we reached our starting point, and the location of our cars at Francis Road, where walkers were rewarded with snakes of the confectionery kind. This was my first walk in this part of the Warby Ovens NP, after having lived here for over twenty years. The Ovens River in this location is a sight to appreciate, and the easy tracks make it accessible to everyone. If you are yet to visit this part of our region, I can unreservedly recommend it as an enjoyable way to spend a few hours.
Michael Braendler