Because of the restrictions imposed as a result of the pandemic, this walk was split in to two groups; Group A (led by Jeanette and Michael) met at 9.45am, and Group B (led by Chris) met at 10.15am.
There were 15 participants in total, and having met at Taminick Gap, the walkers stepped it out to Chick Hill for morning tea, and then returned to the main track so as to get to Mount Glenrowan (Morgans Lookout) for lunch.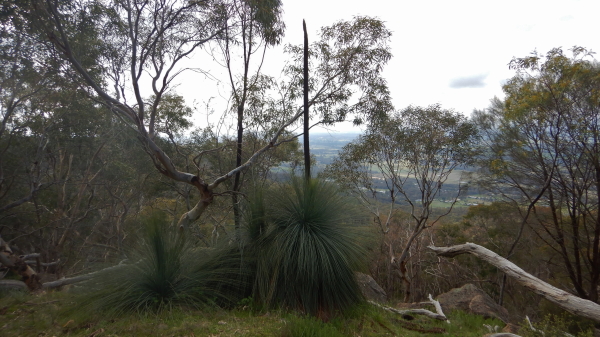 The distance planned for this moderate grade walk was about 11km, including the detour to Chick Hill and return (which added about 1.8km to the usual direct route to Mount Glenrowan).
The views of the floodplain from Chick Hill, and Mount Glenrowan, were excellent; however, lingering haze obscured any high country vistas.
The grass trees looked very prosperous, and there were several shrubs (such as the Fringe Myrtle) in flower.
Weather for the day was cool at first, but mostly sunny.
We were on the track for about four hours, and this was a great walk with a great group of people; very enjoyable.
Chris M