This nice little adventure was originally proposed by Adrian as a Pod walk, but eventually morphed into a full club walk.
However, regardless of the pedigree, nine happy walkers enjoyed this scenic six kilometre outing on a glorious winter's day.
We met at Rotary Park at 10am, and set off in convoy for Thoona, and then via Sayers Road, and Amery Road South to the start.
From here, we followed the faint foot-pad to the ridge-line, and then followed this through to the environs of Mount Meg.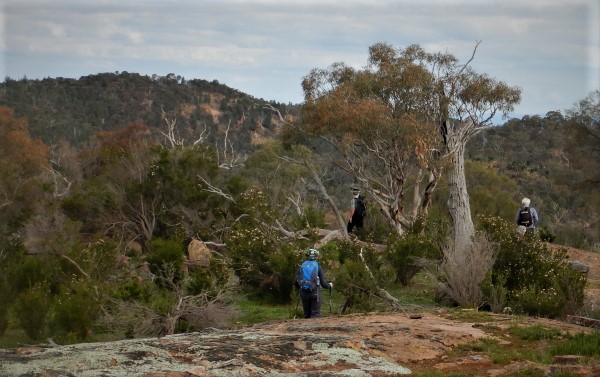 Morning tea was enjoyed at a nice rocky outcrop, and lunch at the Mount itself.
Many granite outcrops were encountered on the way, all of them with a pink hue (caused by the presence of potassium feldspar plagioclase : Geology 101), and we made use of these rocky settings for our seating.
The views were excellent, with the Wabonga Plateau and Mount Cobbler on the skyline, and lush green fields closer to the ridge.
Wildlife included many kangaroos, a soaring wedge-tail eagle, and several groups of chough, which didn't seem to like our presence.
The documentation for the area mentions two aboriginal art sites, but we were not able to find these.
As mentioned, we were following a faint foot-pad all the way, and the terrain under our feet was far from smooth, making progress quite slow.
We covered the six kilometres in four hours, and found trekking poles to be a great asset.
Many Thanks to Adrian and Geoff for guiding us on this very enjoyable walk.
For future users of this route, Adrian has a marked up topo map of the area; and for GPS users, Chris M has assembled a GPX file, covering the GPS waypoints.