It was an early (9am) start for the Jamsparks Pod on the 27th, and the Pod headed out along Ridge Track, towards Mount Glenrowan.
Morning tea was held at Chick Hill (a short detour from Ridge Track), and then the Pod continued to Mount Glenrowan for lunch at Morgan's Lookout.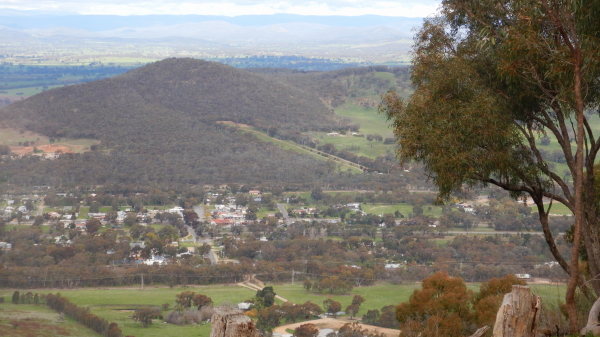 It was a great day for the scenic views, and to add to the pleasure, there was a surprise gesture for Jeanette's birthday.
Michael had secretly carried two bottles of wine, and some plastic wine glasses in his pack, and this was lot of extra weight that we couldn't allow him to carry back.
On our return walk we came across the McPod (who had made a leisurely 11am start) and this was a nice bonus to catch up with other club members.
After exchanging notes, and gossip (at 1.5m, of course) we took the back track (we think it's called Bluff Track) from Ridge Track, which eventually brought us back to the Ridge Track near the water point for the CFA.
The Jamsparks Pod finally returned to the start about 1pm, whilst the McPod arrived back at 2.30pm.
[this blog courtesy of the Pod socialisation committee]