Sunday September 17 was a great bush walking day on Mount Buffalo with 16 walkers prepared for the hike incorporating Macs Point and Mount Dunn. The sun was shining and at times a slight breeze was noticeable. Our starting point was Lake Catani which allowed for the formalities of handouts of maps and introductions. Speaking of introductions, next time I am going to organise the group so that we can have a consecutive name call of Sandi, Sonia, Sandie, Sara, Sandy and Shannon. It has a nice ring to it.
I pointed out to all present that this walk was new to me, as I was not one of the four people who had reconnoitered the walk last year. Aah, our club members are a trusting group. It was now about 10am, and we began leaving the car park alongside the lake and following the dirt road back towards the main road. A track on the right led us closer to the lake, and a flowing stream. After crossing the main road, we were at the start of the Long Plain Track which leads to various points of interest including Macs Point and Mount Dunn.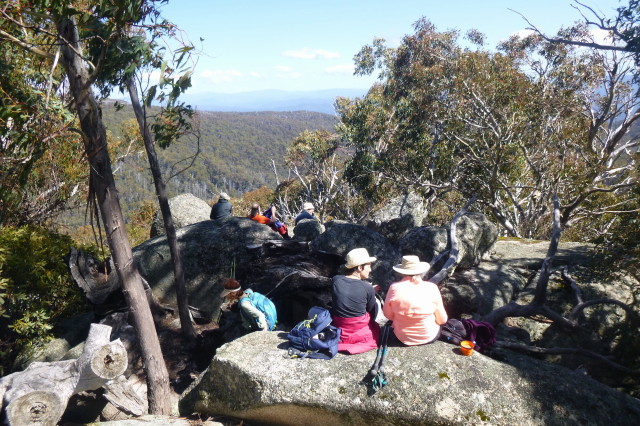 Long Plain track begins as a flat walk alongside the Eurobin Creek which feeds into Lake Catani. The creek was flowing well and an occasional small waterfall was noticed along the way.
Our first junction point was one leading to Mount Dunn in one direction and Macs Point in the other. It was decided to take morning tea at this stage, and had nothing to do with, "which way shall we go now…decisions!" While relaxing, we encountered another group of three walkers who were on their way to Mount Dunn.
After some morning tea in this pleasantly sheltered spot, we continued in the direction of Macs Point. Our elevation at this point was about 1350m. For the next section we would climb to about 1490m over a distance that would get the legs working and heart pumping – if they weren't already. Once we had reached this maximum elevation, we continued past points of interest such as Stanley Rocks while walking down a little in elevation to the next junction point, which was another means of walking to Mount Dunn.
The remainder of the trail towards Macs Point is best described as gently undulating. This was obvious from the increased conversations and less huffing and puffing. After passing another junction we encountered the Split Rocks, and not long after reached the first of today's highlights – Macs Point. The expansive view over the southern parts of the national park made for a suitable lunch spot. The elevation at this point made it a little more exposed to the stiffening breeze, and numerous jackets were now being put on.
After a suitable break we retraced our steps a little to a link track which leads to the reservoir via Rocky Creek Track. On the reconnoiter completed by previous walkers, this section of the link track was badly in need of maintenance. Fortunately, the trail had been cleared, and it was easily navigated. Once we reached Rocky Creek Track, we continued towards the next junction leading to Mount Dunn. On the way a small stream was easily crossed and Og, Gog & Magog were visible at one point on the road.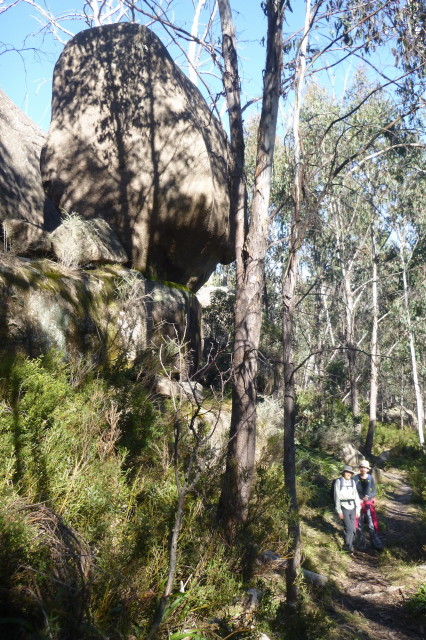 Last time I led a loop walk involving Mount Dunn it was not possible to climb, as the weather had turned and made it most uninviting to take a detour in such conditions. Today with the sun shining most of the group proceeded to the summit. I am not a fan of heights, and despite the sturdy looking steel ladders I wasn't planning on making the final ascent of a few metres. Perhaps it was the way Trevor said, "would you like me to hold your hand?" or something else inside me that urged me on those final few steps.
Gripping the ladder guide rails tighter than a Coconut crab could pinch your bones, I slowly made my way up to join my fellow adventurous walkers. The reward for our efforts at the summit elevation of almost 1490m, were 360-degree views with clear blues skies, and the last of the season's snow in the distant alps.
Such dizzying heights can affect you. One of our Sandi's had misplaced her glasses. "Oh, my glasses, where are my glasses, has anyone seen my glasses?", was the plea we heard. "Oh, never mind, I found them. They're on my head!" She was wearing them all the time. Yes, the exhilaration of bush walking has a different effect on all of us. Mission accomplished, it was a return descent to meet the rest of the group, hand out the edible snakes, and head back towards Lake Catani.
Before meeting up with the Long Plain Track again, we pass through a section of the park which is quite beautiful with its vegetation, and precariously balanced granite boulders. Certainly, one of my favourite parts of today's walk. Probably the most difficult section of today's trail involves those parts where the trail is very narrow for your walking boots.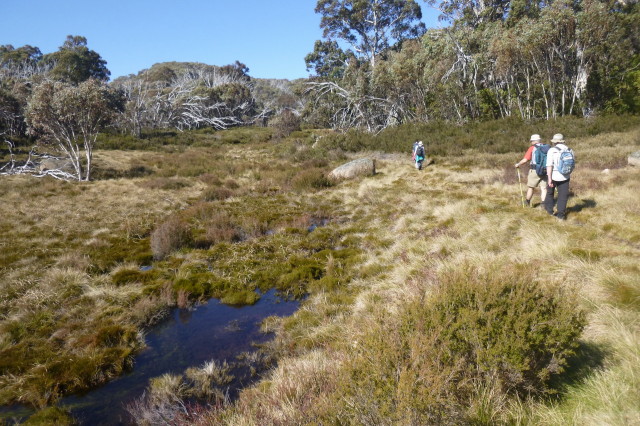 To accommodate this, you need to adopt more of a supermodel walk. This is where one step or foot is directly in line with the next step, rather than walking with feet side by side. Believe me, it's unnatural and uncomfortable. It also necessitates a certain hip and posterior movement to achieve this peculiar walk successfully and I am yet to master it. But then I am not a supermodel.
Once back at the cars we made use of one of the lakes shelters for Pat's afternoon tea. A spread which is welcomed at the end of each walk and has gained legendary status.
Thanks to everyone for participating. Thanks also to my four walkers who checked this route out a year ago in Jeanette, Sara, Sandi and Sonia. The hike of about 16km was completed in six and a half hours, and was a great day of walking in this spectacular National Park.
Michael Braendler