On Saturday, five walkers started off in brilliant sunshine to complete an 8.5km loop, starting at Typo Station, and going in a westerly direction. They saw plenty of bird life, and enjoyed the amazing scenery along the way, arriving back at Typo Station in time for lunch after a three hour walk.
For the longer walk, 15 adventurers set off for the hour+ drive to Lake Cobbler for their walk to Mount Cobbler and return. En-route, a mandatory stop was to check out the spectacular Dandongadale Falls, which were loaded with water due to this year's wet winter and spring.
After our arrival at Lake Cobbler our first water crossing presented us with the overflow from the lake over the road; so it was boots off, or rock hopping, with some lucky to stay dry. Group photos at the Cobbler Hut and Lake were taken before setting off on the bush track to Mount Cobbler.
The next water crossing was over a narrow stream, very close to the start of the walk, but was traversed using a well-placed rock and fallen log.
A little further along, on a rise, we enjoyed our morning tea before heading off to our next water crossing over the rapidly flowing Dandongadale River. Boots were off for those wanting to keep them dry, and we were back on the track continuing onto Cobbler.
Lunch was enjoyed with some excellent views near the peak before we ventured up the rock-face, ready to scramble across the ditch to the peak for some of the best alpine views, with patchy snow across the alps. A small brown snake was disturbed from its sunny spot, it didn't have the peak all to itself any longer.
After enjoying the views, and handstands from the young and energetic, it was back across the ditch to the rock-face, and start the descent back to Lake Cobbler.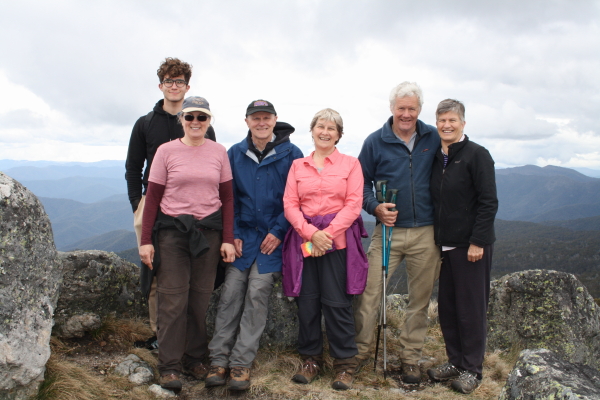 We returned via the alternative (more level, elevated and longer) route to Lake Cobbler Track, and finally to Lake Cobbler, to complete our walk. Overall, it was a loop walk of approx 13k, with the ascent and descent each greater than 500m.
The opportunity to complete this walk is a rare event on our club's program, and it was greatly appreciated by those who attended. Special thanks to Trevor for his excellent local knowledge of the area, and to Geoff for organising an excellent weekend at Typo Station.
[Jeanette]
---
Coming Events
Saturday, 22nd October. Wilhelmina Spur, Mount Buffalo NP
Paul, 0412 110 261
A medium loop walk of approx 12km on bush tracks at the base of Mount Buffalo, along Eurobin Creek, up Wilhelmina Spur, and back down the lower section of the Big Walk.
---

Tuesday, 1st November – Melbourne Cup day. Murray River and River Red Gums at Wahgunyah
Chris, 0418 503 802
From Pfeiffer Wines at Wahgunyah an easy loop walk of approx 10k following bush and walking tracks taking in the mighty Murray River, and Australia's favourite tree, the River Red Gum.
Followed by a shared lunch and Pfeiffer wines under the shady trees in their welcoming garden, and of course listening to the Melbourne Cup Race.
BYO plate to share.
---