This year's Week Away covered six nights in South Gippsland, based at the excellent Forest Lodge Farm.
A total of 33 club members journeyed, by various routes, down to the Yarram area for this week of glorious bushwalking, in delightfully varied country, and in great weather conditions!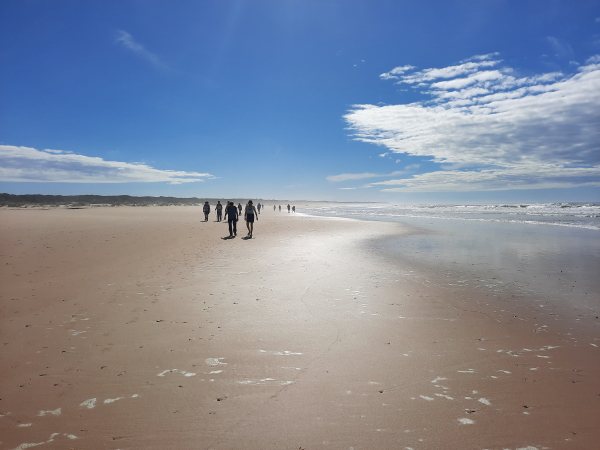 On the Friday we were trudging through Tarra Bulga NP rainforest, with those amazing steep fern gullies amongst the tallest flowering trees on the planet (Mountain Ash, Eucalyptus regnans).
As well, we encountered magnificent waterfalls, quite a few friendly leeches, some confusing signage, a huge Italian dog at the coffee place, and some narrow, but busy roads; all of them highlights of that superb day!
On Saturday we were off to the scenic Port Albert area, with most of the group walking from the 1840's town of Alberton along the cycle path, and then the Old Port Trail into a very windy Port Albert for a fish an' chip lunch next to the extensive piers. The hard walkers returned via the disused railway track to our cars.
Sunday saw most of us heading back down to salt water, but this time we were able to amble along the magnificent 90 Mile Beach in beautiful conditions, with an alluring Wilson's Prom, always visible to the south-west.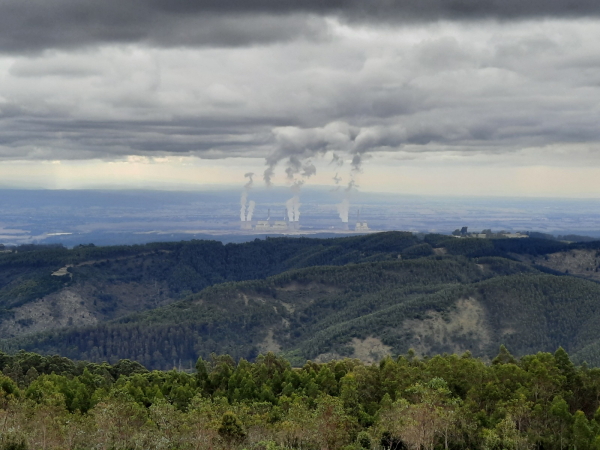 Most of the group walked from McLoughlin's Beach across the long boardwalk to the beach, and then along to the sandy heads of the Nooramunga Marine and Coastal Park, while the more adventurous hard walking crew, ventured further along the beach to cover many more sand kilometres.
After three days of steady walks, Monday was offered as a "rest day", but most of us were very busy! The ambitious, mainly Myrtleford, mob drove straight to the Prom to conquer some of the walks near the entrance to the Park.
Others explored the area much closer to our camp, and visited the fascinating Port Welshpool, and other engaging locations such as the amazingly engineered Agnes Falls. The impressive hill located wind turbines, and the reviving now arty town of Tarraville were also popular.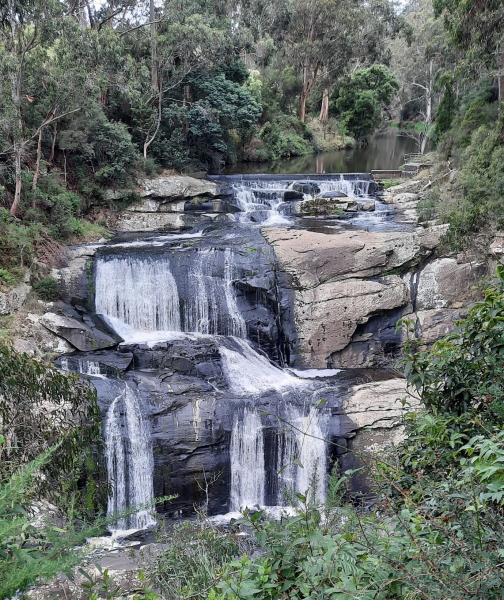 The accommodation was excellent, the food was magnificent, and of course the organisation of the walks and the week overall, was top class!
Tuesday was our last day with hiking boots on, so we returned to the rugged Strzelecki Ranges, and investigated the less pristine area just to the north of the Tarra Bulga National Park, ending up on the summit of Mount Tassie with impressive views to the north – wilderness ranges contrasting with the huge smoking power station chimneys in the Latrobe Valley. Most of us meandered back via the interesting town of Yarram, where later we really enjoyed our one meal "on the town".
A big thank you to the organising committee of Sandie Church (walks coordinator), Anne Turnbull (meals), Erin Pascoe (catering) and the ever communicating Marita Samuelsson. All worked so hard to prepare us for this enjoyable adventure.
[Andy]