There were 20 participants on this walk, and we had two pods, so as to comply with the covid-19 restrictions.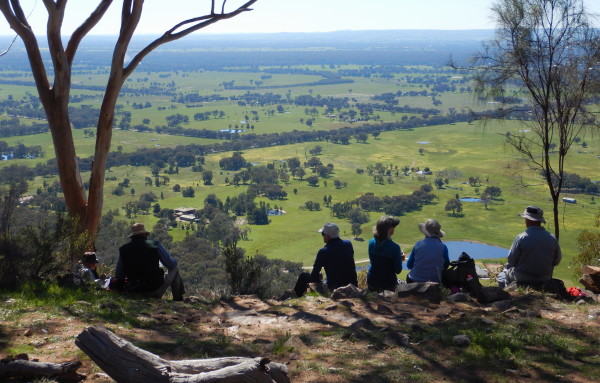 Having met up at Rotary Park, we headed off to the starting point of the walk, Wenhams Camp.
The distance planned for walk was about 12 kilometres, and we had a beautiful sunny day, with a temperature of about 17C.
Setting off, we walked past the new sign-post at Wenhams, and walked to Kwat Kwat Lookout, where we had a very scenic morning tea.
We then retreated slightly so as to take Friends Track, and then Alpine Views Track down to Boilerwood Track.
Here we turned left (not the normal right-turn) so as to check out a newly documented cascade/waterfall.
We all agreed that it's very scenic, but it was not running as well as it was a few weeks ago when Yve, and myself, walked here for the first time.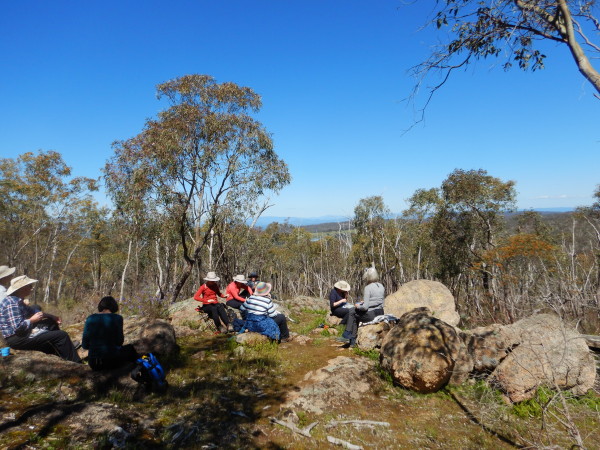 Returning to the normal route, we took the turn-off to Mount Warby, had lunch on the way to this local peak (at a scenic rocky outcrop) and then continued to the Mount, and then downhill to Wenhams where we had a very enjoyable afternoon tea.
Total travel time was about five hours, and we voted Alpine Views Track as the best walk in the Warby Ranges.
Wenhams Camp was quite busy with bushwalkers, and mountain bike riders, and we encountered several bushwalkers/cyclists on the track; the Long Weekend was obviously quite popular.
[Chris]