On the weekend of September 10th – 12th a group of walkers were able to participate in the Eildon weekend. The easing of some Covid-19 restrictions were not quite enough to enable more to partake, but those in attendance were enthusiastic about the prospects of walking in a new location for the club.
The weekend began Friday evening with a meeting of all participants, and an outline of the walk options for Saturday. There were numerous distances available, all return walks, ranging from 5km or 14km, or almost 20 km, and finally the 16.6km walk, to which I gave my best sales pitch. The walkers subsequently had the evening to read copious notes on the variety of walks, before thinking about the options and sleeping on it.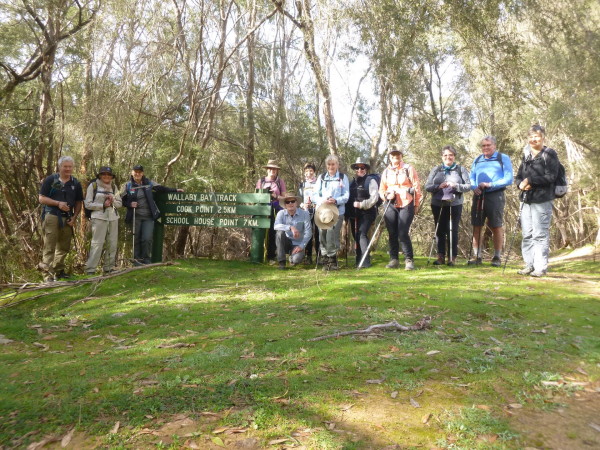 On Saturday morning we all assembled at the outdoor camp kitchen. My previous evening spiel about the walks had encouraged all to choose, of their own free will, and I repeat, of their own free will, the 16.6km hike. This summer I intend to sell sand to Saudi Arabia, and snow to the Eskimos.
Our hike would begin 20kms away at Wallaby Bay carpark, near Fraser Block, a major part of the northwest section of Lake Eildon National Park. It was named after Alexander John Fraser, a State Development Minister of the early 1960's. After the first of many group photos, we began our hike towards Point Cook some 2.5km away. Much of this section was shady and undulating, and numerous bird life, and a kangaroo were spotted early into the walk.
Upon reaching Cook Point we walked right out to the tip of the point where the water's edge gently lapped the shore, and delightful views of the lake were observed in several directions. Cook Point was named after an early settler who owned the land. This was a perfect setting for morning tea in glorious sunshine.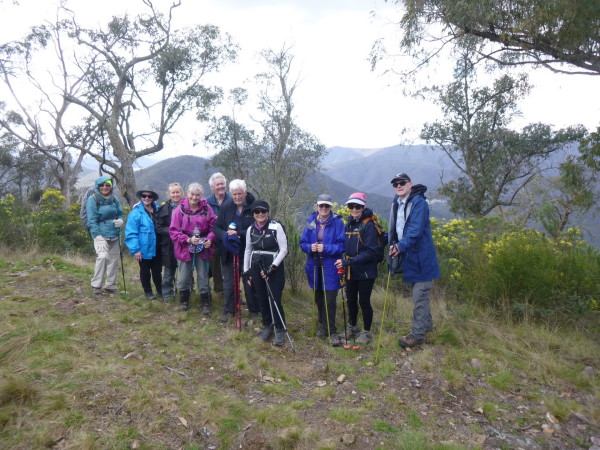 Our next destination about an hour away was School Point, the site of a former school which is now the site for schools of fish. Speaking of fish, Trevor was still on the lookout for them after spotting one early in the walk. Presumably a large carp, its size was indeed questionable, but it was somewhere between Nemo and Flipper. Upon reaching School Point Jane suggested a lesson. Without a guitar on me, I proceeded with a lesson on reading the provided map, which was in fact a GPS print out of when Jeanette and I reconnoitered the walk on a previous occasion. The group was easily satisfied with that, far more than some year nine classes I have taught, and we proceeded onwards.
Our next point of interest, Stones Outstation, was now only 2kms away. The track would gradually venture away from lake views, and take in more of the beautiful bushland. There were occasions where we crossed streams. Some bridges were solid wooden constructions, another a sturdy steel structure, and then there was one that was merely a few logs loosely placed side by side. This one tested our sense of balance, or what looked like in some cases, bad dance moves.
Further along, Sonia was delighted when she encountered a waterfall. And yes, I suppose water falling almost 20cms is still classified as a waterfall. You can imagine her delight when another was found soon after falling well over 30cms.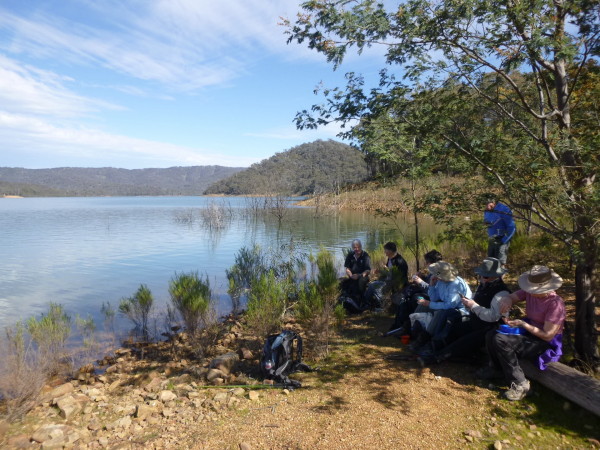 One small creek crossing involving some sure footwork on steppingstones ultimately led us to Stones Outstation, named after the family who were early settlers to the area. The location of the hut is picture perfect, with the creek, surrounding trees and bushland and hills at the rear.
Having walked about 10.5km this was now our welcomed lunch spot. Before departing the hut, a bright crimson coloured parrot joined us, and it appeared to be well accustomed to people. All packed up and ready to go, it was time to retrace some of our steps.
We walked back to a junction, which was the start of the Devass Gully walking track. From here there would be no turning back. It is this junction that enables a loop walk of 16.6km, instead of a return walk of almost 20kms. Did I mention that everyone had chosen this option of their own free will? As with many walkers, I am not really a fan of hills. A brick wall might best describe what appeared to be ahead of us. Yes, it was steep, and in future tales over the coming years it will become steeper, but the promised views would be well worth the effort.
The most interesting thing about this section was that the last few steps almost seemed vertical. It was difficult to place a foot square on the ground. This occurred a few times during this short section of the ascent.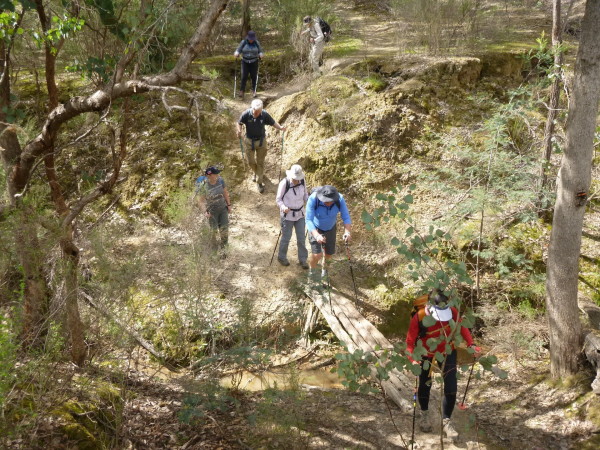 "Is that it?", questioned Graham. No, it wasn't, but the next incline was a little more gradual, while still maintaining the recommended maximum heart rate during exercise. As we were nearing the top of the ridge, walkers were encouraged to look at the views on the way up. We finally reached the junction of the Devass Gully and Blowhard Tracks. The views were brilliant, and offered expansive views of the lake, and national park, in all directions. Smiles and, although short of breath, gasps of "Oh wow" abounded. Sandie said it reminded her of New Zealand.
Looking around observantly, several walkers noticed the trail in one direction took a large descent, and ascent, to another peak. "Don't tell me we are doing that", was distinctly heard from someone in the group, possibly even a chorus of walkers. And yet we were.
The Blowhard Summit peak is about 573m. So named because it is always blowing hard. Today the breeze was most welcome. From this summit it was time to make our descent along the Merlo Lookout track. During this bush track a 250m decline would be completed over 900m. Sandie was so, so close to completing it unscathed. Her ultimate unintentional move, somewhat reminiscent of a combination snow skiing and belly water slide maneuver, happened in the last few steps. Fortunately, "Nurse on Call" was only a shoulder tap away, and once attended to, we all walked with a sense of achievement back to the cars. Today only the gold medals were missing.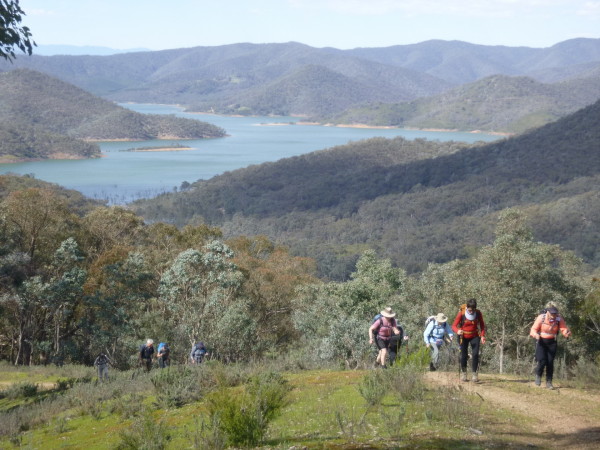 There was no rest for the wicked because Sunday required another early assembly at 8am. Eildon averages a temperature of 17 degrees for this time of year. Saturday's forecast was for 21. Today's forecast was for 13. Bang on the average this weekend. An early morning downpour greened things up a little more, and John had made the earliest of starts to travel two hours, and meet us for today's walks which hopefully would live up to expectations.
A short drive to Eildon and the Lower Pondage Walk was an appreciated flat walk of under an hour to start the day. Our next destination was a short drive away to Foggs Lookout for morning tea. The sun was still shining, but today's breeze was not so welcome, and had a wind chill factor that would make a fur seal want to wear a duck down jacket. However, great views of the valleys, and Lake Eildon, were afforded. Once morning tea was consumed, it was time for the main event.
The Pinnacle Walking Track is classed as a grade 4, about 10km and a four hour return walk. Today that is what we would aim to do. Jeanette, and my unintentional exploration of 22km, in just under 8 hours, is almost a distant memory. The track begins south of the Jerusalem Creek campsites. I think the first section of the walk has a somewhat magical quality about it, and unlike the experiences of the previous day.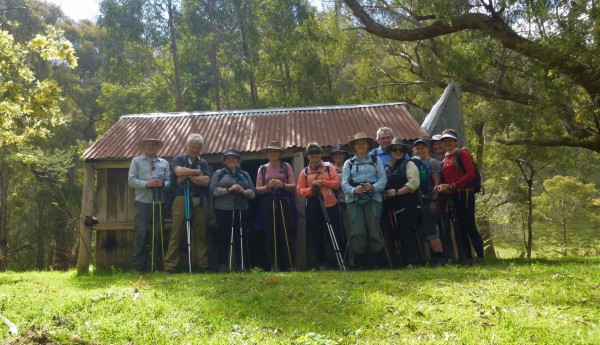 There is a dense green carpet-like grass in places, some muddy sections and shady canopies of trees and bushes in parts, while walking along a flowing stream. After crossing a small bridge, we soon reached a broken sign for the Pinnacle Track. The easiest part of the walk was behind us, and a steady climb, with occasional respite, would take us to the summit.
The Pinnacle Track doesn't involve walking along dirt roads at all. We walked more closely, surrounded by bush on either side of the track. Yesterday moss was evident everywhere. This track today contained more wildflowers, and the opportunity to take close-up photos was taken periodically. Views of the lake were also not as abundant, but we were further south in the park, and surrounded by denser bushland. After hiking about 4km, we reached Rocky Spur, a junction that made a good lunch spot.
The breeze wasn't getting any warmer, and so everyone agreed to the final trek of about one kilometre to the summit. Packs weren't required, so a number took the opportunity to leave them at this point. Rain jackets however made their first appearance for the day, as clouds and rain on some of the surrounding peaks looked more ominous than they had been all day. Our raincoats would now be used in yo-yo like fashion, in that they were on again off again for much of the rest of the walk. In our new Mont rain jackets, Trevor and I seemed to have the same problem. Managing to get the start of the zipper to work correctly proved a monumental challenge.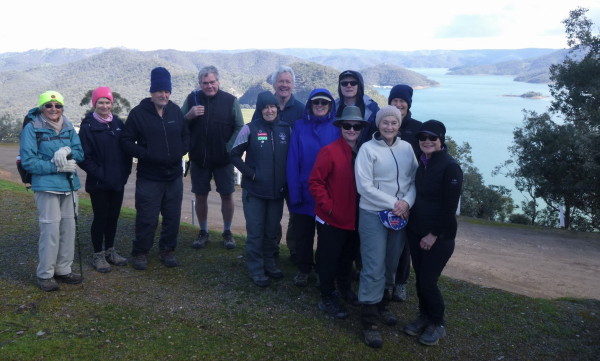 Towards the Pinnacle Summit the terrain changed again, to a rockier ground in some places. It wasn't long before the 915m summit was reached. From here the views were far more satisfying than I remembered. We could see the Lake back towards the Jerusalem Inlet, and the arm of the lake that fronts the Jamieson block of the National Park.
In addition to the lake views, other surrounding peaks were visible, thanks to our current elevation. After taking in the views for the final time, and the customary group photo, it was simply a matter of retracing our steps back to the cars, where the final round of Allens snakes were consumed for the last time this weekend.
Michael Braendler