The planned walk for today went from Briggs Lane in Myrtleford, to the Murray to Mountains Rail Trail near Gapsted Wines; this was a 12 km walk, meandering along bush tracks through Stanley State Forest.
There were 20 walkers on this adventure, which was the maximum number of people who could gather within covid-19 regulations at this stage.
The day could be described as a miserable winter's day, as it was misty and cloudy; however, our experience was quite the opposite.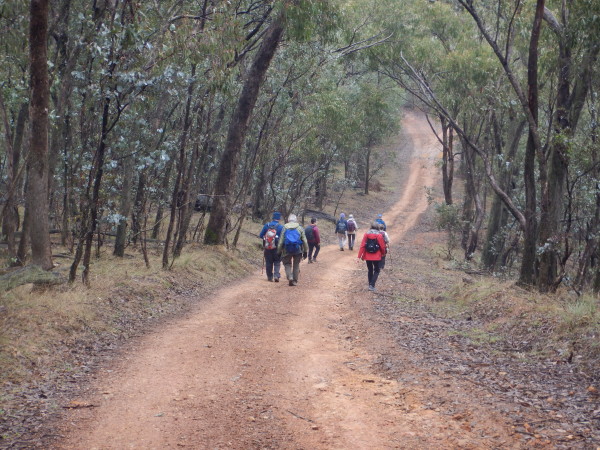 The effect of the mist, and the stillness of the air in the bush around us, made it a very peaceful place to be in.
We had four new people joining us on our walk, and we hope to see them again soon.
There was lots of talking along the way, and even more chat when we stopped for morning tea and lunch, which added to the enjoyment of the day.
The walk was completed by 1pm, four hours after we started walking at 9am.
I think I can say that we're all looking forward to our next walk.
[Marita]
---
Please note that there is a change of leader for the walk on Friday, July 2 (Warby Heritage Trail). This walk will now be led by Jeanette, telephone number 0417 546 974