Ten hardy souls, and Bertie (the pooch), braced the cold at Stanley for the Nine Mile Historic Area walk of approximately 15km; it was time for thermals, beanies and gloves.
The walk started with a steep descent down to the Wallaby Mine glory hole, restored battery stamp, and mine shafts.
We then left this area along a narrow grassy track towards the Wallaby Track, reaching an open area opposite the Rechabite Mine; Some of the group then crossed Nine Mile Creek to explore further.
After the Rechabite Mine, the route became uphill, and downhill, following Reserve Spur Track to Lower Nine Mile Road, where Sandie found the perfect spot for morning tea, complete with fallen logs for seating.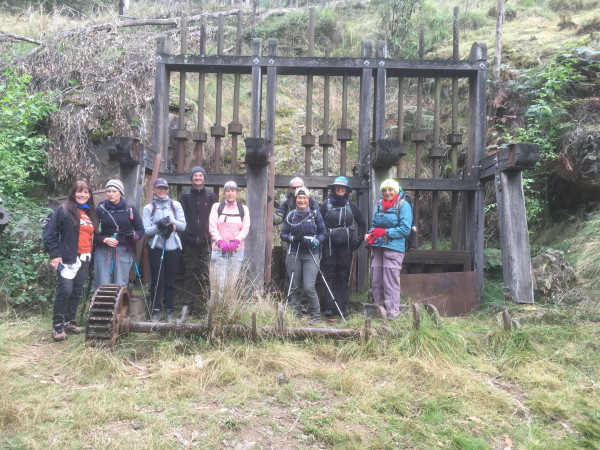 Continuing on to Jenkins Track, we climbed the steep section of Jenkins Track (110 metres over 600 metres) after which Pat rewarded us with jelly snakes, before descending along a bush track to the Karrs Reef Mine for lunch.

Returning to the loop part of our walk involved the steep descent of the earlier ascent. The route then continued along Rocky Point Track, and Lower Nine Mile Road to reach the end of our walk.
Pat's welcome afternoon tea was enjoyed in the warmest part of the day; it was now all of 8 degrees!
[Jeanette ]
---
Forthcoming Events
Saturday, 1st May.
Mt McLeod, Mt Buffalo National Park. Jeanette, 0417 546 974. A return day walk to, or overnight camp at, Mt McLeod approx 16km return, on management vehicle tracks, and bush tracks. This is a perfect opportunity for first timers to experience full pack hiking and camping. Cost is $7 per person, camping overnight on a site – these have already been booked on behalf of the club.
Wednesday, 5th May.
Rivers and Billabongs, Wangaratta. Andy, 5721 7922. An easy walk of approx 8k on river paths along the Ovens and King Rivers, viewing rivers and billabongs, and the restoration work being carried out. The walk includes Mullinmur Billabong, Big Kaluna, Little Kaluna, and One Mile Creek.