There were twelve walkers on this nice 9.4km adventure, and we had a brilliant sunny day, with the max temp being about 22C.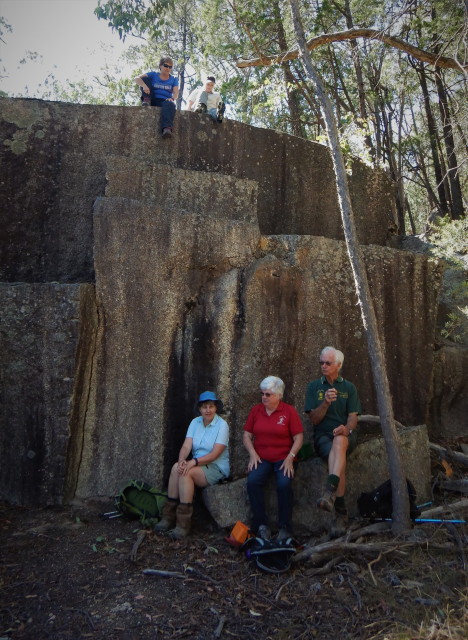 Setting off from the Powder Magazine, we stepped it out to one of several lookout points, where we had morning tea.
Continuing on, we walked up to Ingrams Rock where we spent some time admiring the views, and trying to pin-point all of the local peaks.
The next destination was Fiddess Quarry (where we had a lazy lunch), and then on to The Precipice for some more views.
From here, we climbed back up to the first part of the outgoing route, ready for the return to our cars.
Afternoon tea was held in the shade, near the Powder Magazine, and then we drifted off – some headed home, others went shopping in Beechworth's beautifully preserved town centre.
We rated this walk as 'moderate', and really enjoyed the first of the club's Autumn 2021 walks. [Chris]
[The bridge over Spring Creek is still out of action (four years, and counting), so the walk route was 'P' shaped, rather than 'O' shaped.]