My work took me to the Northern Territory for the first time in 1973, then again in 1974, and then for nine weeks in the aftermath of Cyclone Tracy in 1975.
My mind therefore had a vision of the NT – work, work and more work!
However, some time in the late 1970s, a work colleague (Piet, a lanky Dutchman, who worked with me in Darwin in 1975) asked if I had heard of the newly created Kakadu National Park.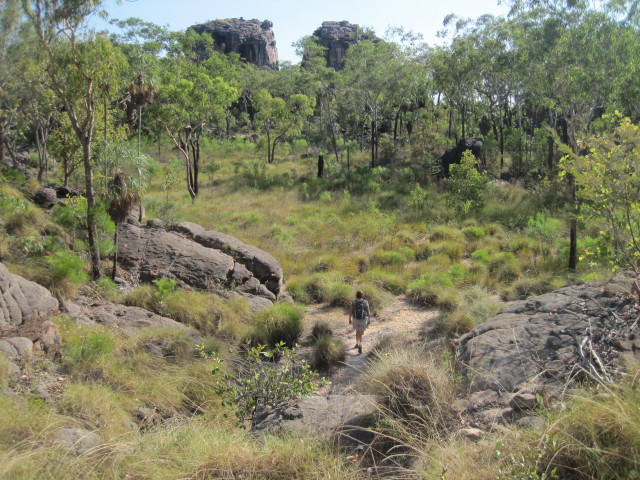 This didn't register with me, but a few years later Yve and myself decided to have a holiday in the NT, and check out this exotic sounding National Park.
We flew up to Darwin, picked up a 4wd campervan, and headed off to the Park – the first of many visits that we would make over the next 30 years.
We enjoyed all of our walks in the Park (some of which are no longer accessible) but many years later became intrigued by the "Barrk Walk", an eight hour walking loop through some great sounding scenery.
The problem was that this was an eight hour walk, and given that there was just the two of us, we didn't feel comfortable in tackling a walk of this length by ourselves.
However, on a later trip, the Viking heritage of curiosity kicked in, and we decided to give it a go.
Arriving in the car park at 7am, we had breakfast, and set off, expecting a full day of activity.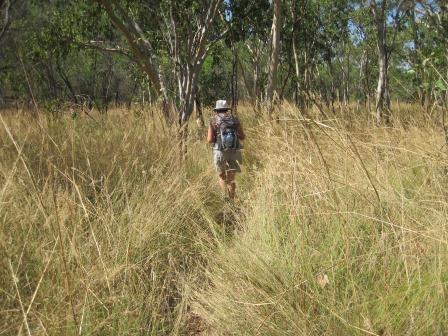 And, what a walk it was – gorgeous rocky scenery, dappled sunlight in the savannah woodlands, and some long stretches through Kangaroo Grass.
Well, I can reveal that it was not an eight hour expedition; we were back at the car in five hours, with a total walking time of four hours and fifteen minutes.
Stunned by this result, we pondered for several days on 'what went wrong'.
We continued eastwards, spending some time in Arnhem Land, and then headed back to Darwin – only to be gripped by another bout of curiosity that took us back to the Barrk Walk.
This second expedition took four hours and twenty minutes of walking – so we were convinced that we had achieved great things, or that the information sheets were wrong.
Modern day guide books and information sheets state that Barrk is a 12km/six hour walk, so we must have been super-fit in those bygone years.
Chris and Yve McLaughlin