On Sunday Feb 16th fifteen of the nicest club members joined my walk in Harrietville. Today our destination was the Washington Creek junction with the Ovens River East Branch along the Bon Accord Track. This was a replacement walk for the Mt Dunn and Monolith loop I had planned on Mount Buffalo.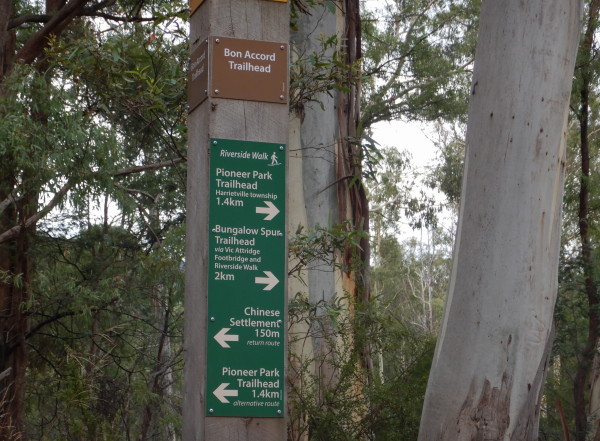 I began the walk with my usual information for all involved. I mean misinformation. This is largely for Ann's benefit. Today I stated the walk would take us from an elevation of about 510m to a little over 800m. In fact the highest point we reached according to my GPS was a mere 666m with Washington Creek being lower at 601m – or 602 if you stand on the bridge.
This reverse psychology on my part was to have walkers prepare mentally for a climb. A climb that would never eventuate and they would complete the walk with ease.
We were walking by 10am and the weather was cloudy and quite humid. The forecast of a possible thunderstorm was looking less likely once we were underway. From the picnic area carpark, we walked beside the river to the start of the Bon Accord Track.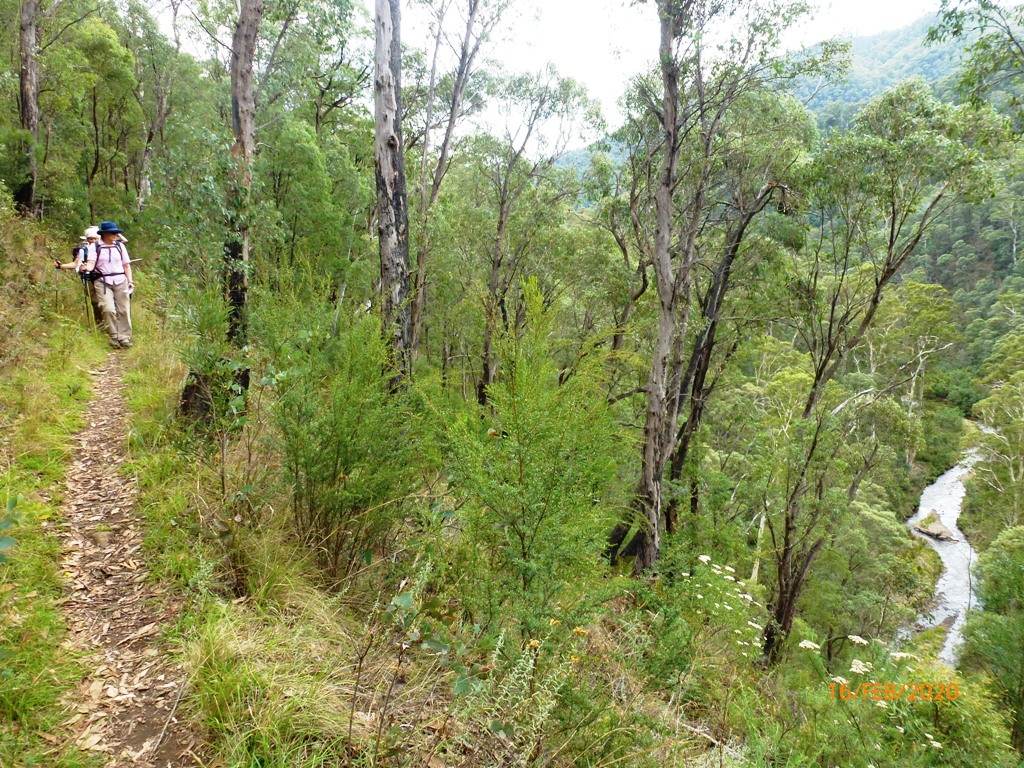 Jeanette filled in the obligatory intentions book. My intention was to return with fifteen walkers. Preferably the same ones with which I began the walk.
Along the route we passed two walkers who said they turned back due to a fallen tree. Our group pressed on regardless. The fallen tree ended up being not so problematic that some additional manual pruning would allow us to proceed. Once all the group had successfully navigated the obstacle, we took morning tea after an hour of walking.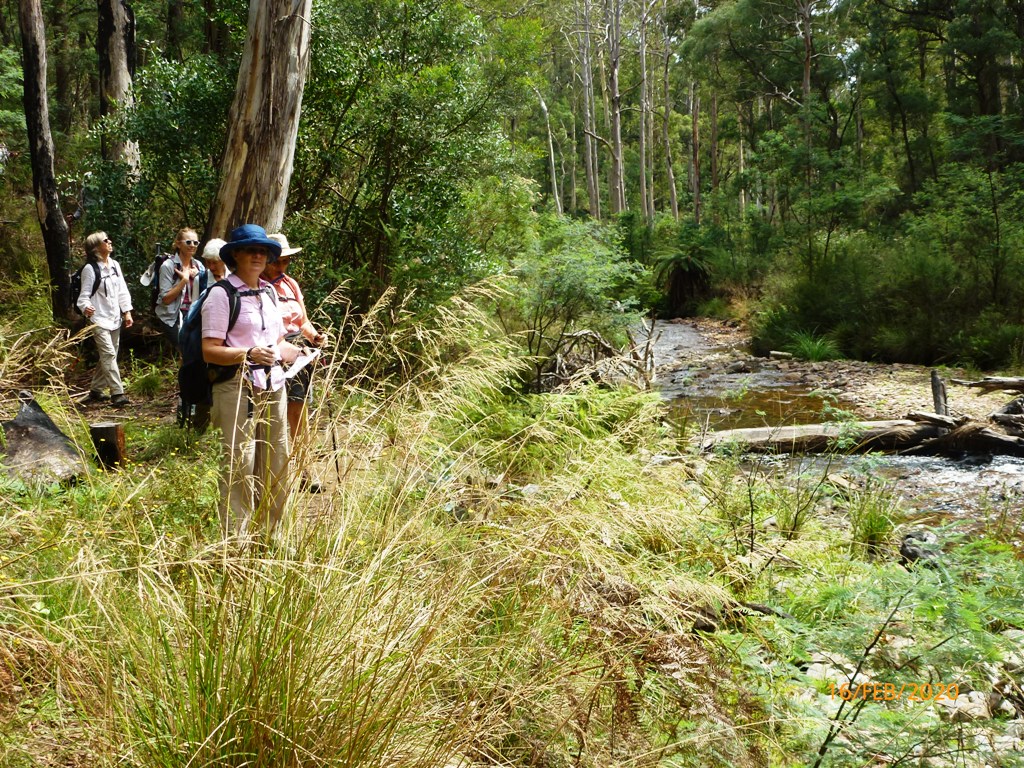 During this section of the walk, a small black snake passed between me, who at the time was leading and Jeanette. This usually happens with snake encounters, and being walker number two in a group is never the safest position.
The Bon Accord Track continues for 12km all the way to Mount Hotham. The section we were walking today certainly is a picturesque part of the walk and suitable for walkers of most capabilities. Before the Great Alpine Road was built this was the route taken by walkers, horse riders and pack horses.
Another small fallen tree required some knee bending to manoeuvre underneath. It's in situations like this you learn about the skills of club members. If we ever have a limbo night I want to be on the team with Erin (yes, she did have to bend her knees) and June (who is known to be made of rubber). All members managed the obstacle, although some always need a little more encouragement. Come on Irene, too rye aye, come on Irene too rye aye…
After an estimated 5km, the view of the Ovens River East Branch could be seen in the valley below. Peter pointed out the entrance to a disused mine to the right of the track, and after two hours we had reached the junction with Washington Creek.
It was now midday, and lunch was taken at this point in beautiful surroundings with the shallow creek flowing moderately.
Sandi added a little extra fruit to her diet by consuming some blackberries on the other side of the bridge. She was telling me of her recent trip to New Zealand with other club members. They were the ones who experienced the torrential downpour while attempting to hike the Milford Track. My recollection of her story is that they only made it out alive by constructing some makeshift raft, and navigating the rising rapids to safety.
Before departing this location, the usual group photo was taken. Angela, our newest member, declined to undertake the club initiation ritual. You know the one, where you are required to remove your socks and shoes, and brave the cool waters of a north east water creek or river. Never mind, next time, and off we went returning the way we had come.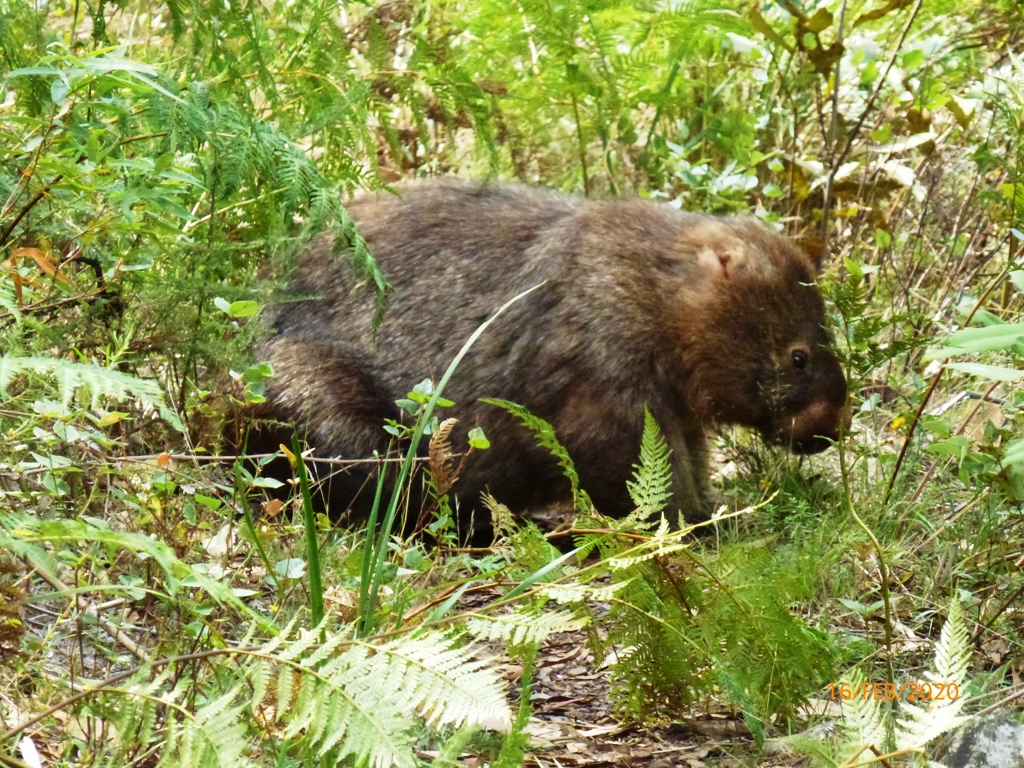 Angela did establish one of the club's best wildlife experiences. Ahead of her on the track was the world's largest wombat, eating along the track. We were only a couple of metres from it, and it was oblivious to our group.
Numerous photos were taken, albeit not the wombat's best profile to begin with, but after a little patience more rewarding photos were available. It was unusual for it not to be bothered by our group.
Peter and Adrian suggested that perhaps it was like many of us. Old and a little deaf. We needed to pass, and after a short grunt like sound (I assume from the wombat, and not Gerri) it scampered to the side of the track, just a metre from us as we walked by.
The tail end of our group, Chris, Yve, Cecily and Jeanette had an additional experience with a lizard. From all accounts it was of moderate size, had had quite brilliant patches of orange on its body.
Perhaps it was a pigment figment of their imagination, because despite my efforts to google for more information, it remains unknown as to exactly what it was.
Our return walk experience was of increased sunshine, and the earlier humidity had diminished.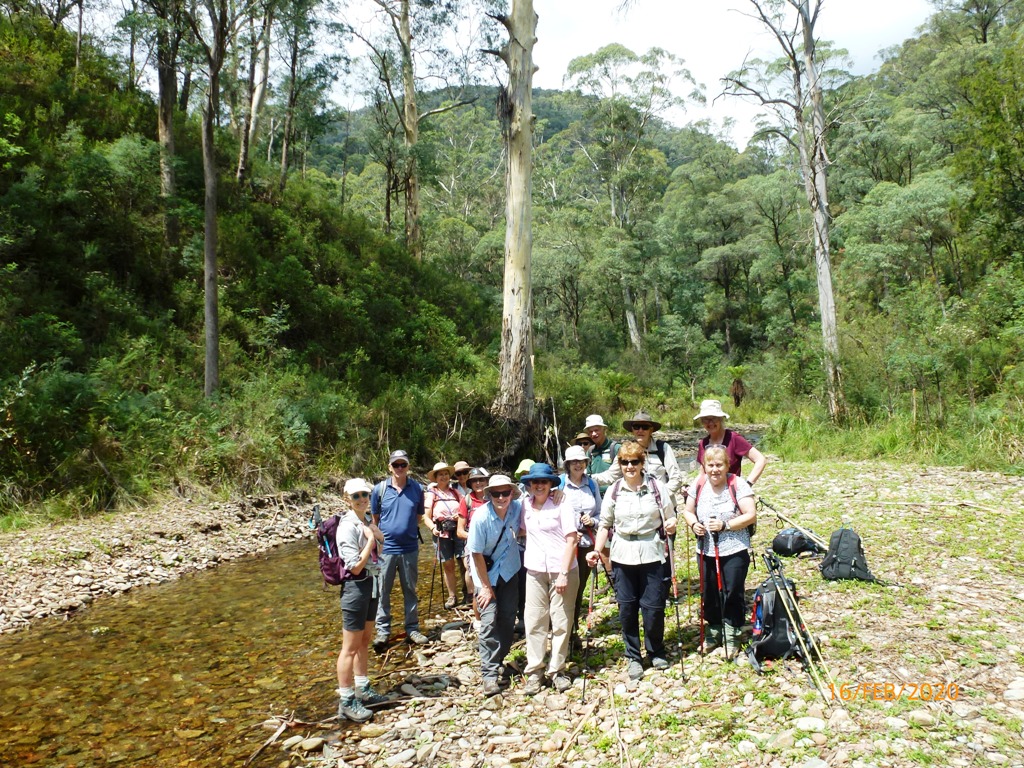 We reached the start of the Bon Accord Track, and signed off in the intentions book with all fifteen original walkers safely accounted for.
The pace quickened from here as Pat's afternoon cuppa was not far away.
However on this occasion she had a little competition, with the local ice cream and sorbet shop open for business. It was an extremely closely fought battle, but as usual nothing outdoes Pat's afternoon refreshments.
Today's walk was 12km and completed in about 4½ hours with stops.
Thanks to everyone who participated, and I hope to see you on my Mount Dunn and the Monolith walk next.
Michael Braendler