Lake Moodemere is part of a cut-off meander of the Murray River, and is a popular area for camping, bird watching and water sports.
This nice little (9km) adventure began at Pfeiffer's Winery, where the 17 participants met up, having driven from Wangaratta, Albury and Rutherglen.
Setting off, we crossed over the Sunday Creek bridge, and headed for the Murray River, having said Hi to some of the many turtles that live in the Creek.
Scrambling through a couple of gates, we were now a few kilometres from the Mighty Murray, where we stopped for a quick drink (the ambient temp was about 30C, so we needed plenty of water).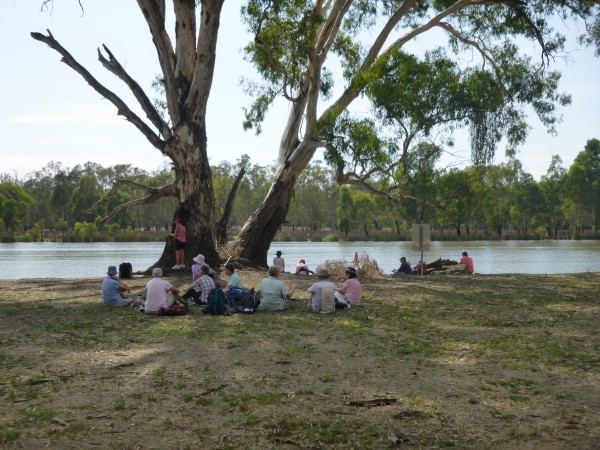 A few more kilometres through the delightful riverine woodlands, and we were alongside Lake Moodemere, ready for morning tea.
The lake was full, and was a beautiful contrast to the many dry areas of the North-east.
After loitering, and chattering, over morning tea, we headed back to the winery, making a total walking time of about 2.5 hours.
Once back at Pfeiffer's we settled in to their picnic area (scene of four markets each year – one for each season), bought some of their lovely chardonnay, and relaxed after our 'strenuous' walk.
A pleasant return drive to Wang, and we were home by 3pm.
[Chris]