There were 22 walkers on this last day of winter walk, with 18 tackling the full route from Taminick Gap, to Morgans Lookout, and four taking Ridge Track direct to the Lookout.
Having parked our cars on the dirt track adjacent to Taminick Gap Road, on the boundary of Baileys Vineyard, we followed the fence line around the Vineyard, with great views to the south and west.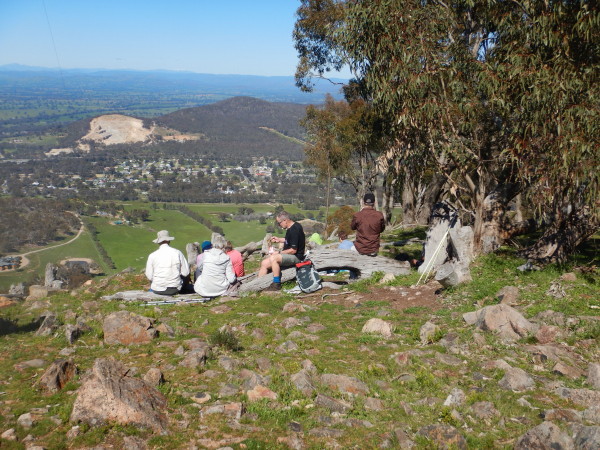 It was a beautifully sunny day, albeit cool to start with, and we were soon discarding outer garments.
Once at Moonlight Track, we began a steep 20 minute climb to the ridgeline, turned right at Ridge Track, and subsequently joined up with the group of four at the Lookout.
A leisurely lunch, with great views (including the snow-capped peaks of Mounts Bogong, Howitt, Buller and Stirling) was enjoyed by all, and then we commenced the return to Taminick Gap.
On the way, we made a short detour to admire the views from Chick Hill (800m each way – total 1.6km) and then had a slow stroll back to the Gap.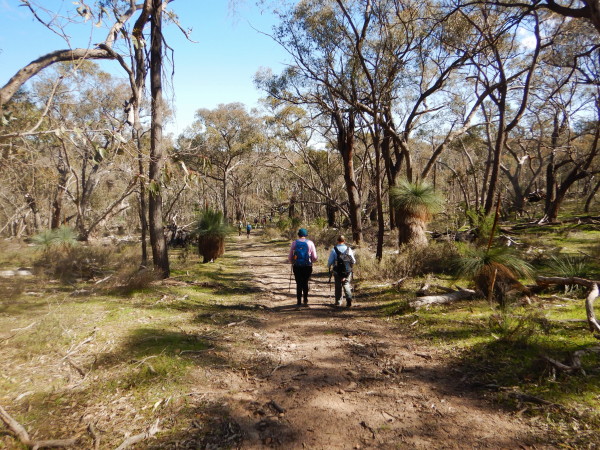 There were various GPS devices in use on the day, and the general consensus was that the full walk covered 13.8km.
However, regardless of the distance it was a great day out; many thanks to Jeanette and Michael for organising this event.
The group met at 9.00am at Rotary Park, mileage was $2.50 per person, and the travel, the glorious walk, morning tea and lunch, plus Pat's cuppa returned us to Wangaratta by 3pm.
[Chris]
---
Coming Events
Friday the 13th to Sunday 15th September
Daylesford weekend
Michael, 0447 617 880
A weekend of walks in the Daylesford area, with easy and medium options of all walks including The Lost Children's Walk, Tipperary Track and Lake Daylesford, followed by a Picnic at Hanging Rock (Macedon) on the Sunday before returning to Wangaratta.
Other activities also available; galleries, market, wineries etc
Email Michael at mbraendler@bigpond.com for an information sheet about this weekend, which includes booking your own accommodation at the Daylesford Holiday Park (van/camp sites; cabins; glamping).
Tuesday, 24th September
Friends Track, Warby Ovens NP
Chris, 0418 503 802
An easy to easy/medium loop walk of approx. 12k on bush tracks, starting at Wenham's Camp, taking in Kwat Kwat Lookout and Mt Warby.