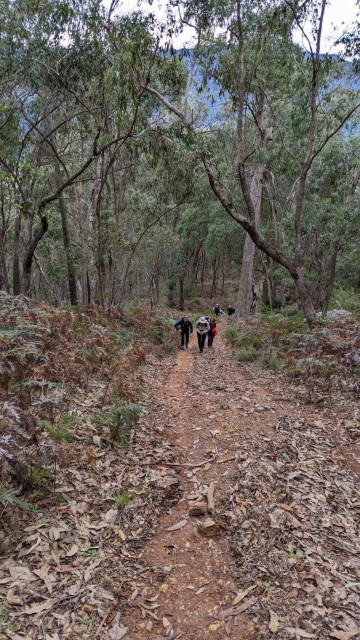 Yesterday's eight kilometre walk at the base of Mount Buffalo was led by a relatively new club member Paul, with seven members joining him for the walk starting at the Eurobin Creek Picnic Area.
From the Picnic Area we followed the Mount Buffalo Road to the Manfield Track, then the Eurobin Creek Track, parallel to Eurobin Creek with the clearest water running in it.
After about two kilometres, we turned left onto a foot/4WD track with a short steep climb before descending to a gully. After the gully we had morning tea, at a sawn up fallen tree, alongside the track.
Continuing on to the Seven Mile Spur Track, we then had a long steep climb of approx 260 metres over less than 1.5km, before the track was undulating before reaching a further climb to greater than 620m elevation.
Lunch was enjoyed on another recently sawn up tree, also alongside the track, before we came across the junction with 'The Big Walk' track.
From here, we continued downhill along The Big Walk, returning to the Eurobin Creek Picnic Area, where Pat's welcome afternoon tea was enjoyed by all.
Many thanks to Paul for leading his first walk with our club.