A happy tribe of 14 walkers took a day out of their busy pre-Christmas schedules to find some serenity on Mount Buffalo on Sunday 18 December; ten of the group emanated out from Wangaratta and were joined by four more from Myrtleford.
We were up at Lake Catani by 10:00 on a beautiful early summer day, and heading down the lakeshore, we took the track out to View Point Nature Trail, a 1.8km extension through a sheltered part of the forest. This led us to an exposed boulder face giving views to the east over Buckland Valley, and back towards Lake Catani, where we enjoyed our morning tea.
Returning to the track junction, three of our party elected to take the less precipitous route to The Gorge, on the Lake Catani Track, whilst the remaining group headed towards the Underground River.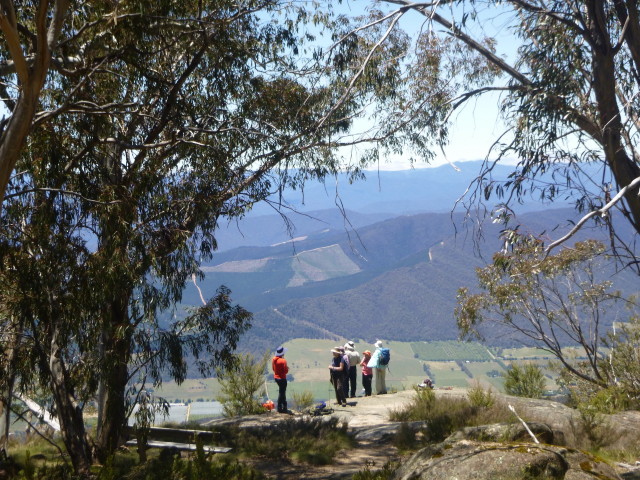 A steep descent of about 100m, down stone steps brought us to the jumble of large boulders in the gully where the burbling of the creek, and the cool ai,r were the evidence that this was the Underground River, Eurobin Creek.
Another steep ascent brought us to the Haunted Gorge Lookout, and further on another lookout towards Porepunkah, where hangliders could be seen. Not far from here, passing the abandoned Chalet tennis courts, we emerged at the bottom of the Gorge Carpark.
Lunch at the picnic tables, toilets and coffee van made this a more civilised walk than most. Rather then walk around the Gorge, we elected to check out the state of the Old Lady, The Chalet; she was looking cared for, although the Rhododendrons were past their best, and the Lupins were making a good show. A Park Ranger confirmed the reason many stately trees were sporting hessian wraps – a treatment for graffiti etched into their sides. How disappointing this should be necessary.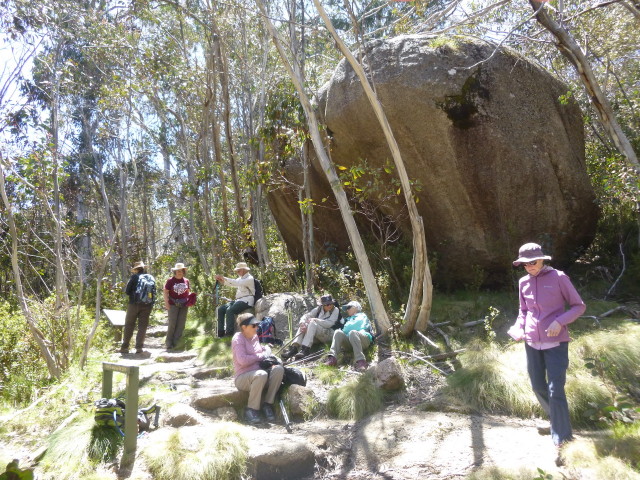 An easy two kilometres back to Lake Catani brought us to the end of our walk, and a welcome cup of tea and bikies, provided by Pat.
It was unanimous that this had been a lovely relaxing day, exploring (for many) a new trail on Mount Buffalo to add to the list of places to come back to.
Thanks to Jeanette and Michael for escorting the Wangaratta group off in the morning, and to all who shared their company on this happy day.
[Cecily]