This walk to Mount Glenrowan, via Chick Hill, replaced the scheduled Mount Samaria walk, which was unable to go ahead due to fallen trees blocking access to that area.
Fifteen walkers (including two casuals on their first walk with the club) started the 11k walk at Taminick Gap Road, heading along Ridge Track to the Chick Hill turn-off.
After enjoying morning tea, and some great views at the informal rest area at Chick Hill, we then returned to Ridge Track to continue onto Morgans Lookout at Mount Glenrowan.
Here, we enjoyed lunch, with views over the Glenrowan township, Ovens and King Valleys, The Alps, and also to the Winton Wetlands.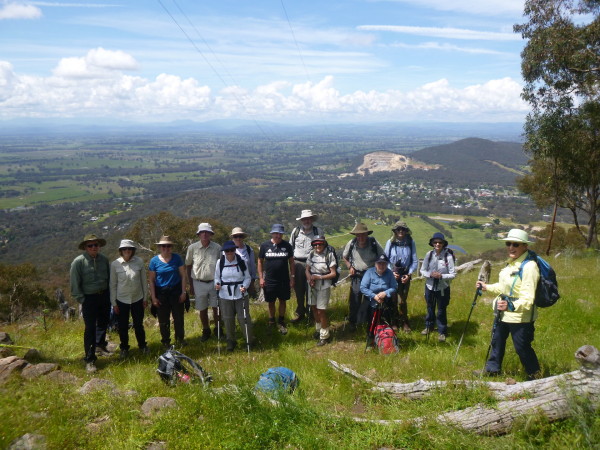 The return walk was along Ridge Track, and the alternate bush track finishing near the Casuarina Track, before continuing onto Taminick Gap.
Wildflowers were in abundance and included Slender Sun Orchids, Spider Orchids, Bluebell, Everlasting and Fringe Lilies.
Wildlife encountered included Kangaroos, a Wallaby and a small brown snake.
Pat's afternoon tea was splendid as usual, and a great finish to the walk. The predicted rains came following the walk, whilst enroute back to Wangaratta.
[Jeanette]