There were 13 participants on this walk, and having met up at Rotary Park, we headed off to Wenhams Camp.
The distance planned for walk was about 12 kilometres, and we had a very grey (and showery) day with a top temperature of about 12C.
Setting off, we found $80 lying on the track and assumed it belonged to a bushwalker (yet to be encountered) in front of us. This was the case, and we were able to return the $80 to a member of Boroondara Bushwalking Club. Their club were in Wangaratta for five days enjoying the wildflowers (and wetness) of the Warby Ranges.
Continuing on, we made the detour to Kwat Kwat Lookout, where we had a very scenic morning tea, sharing the views with several members of Boroondara. The views normally include high country vistas, but this was not the case today. Instead we could comment on all of the very visible pools of water all over the flood-plain.
We then retreated slightly so as to rejoin Friends Track, and then took Alpine Views Track down to Boilerwood Track.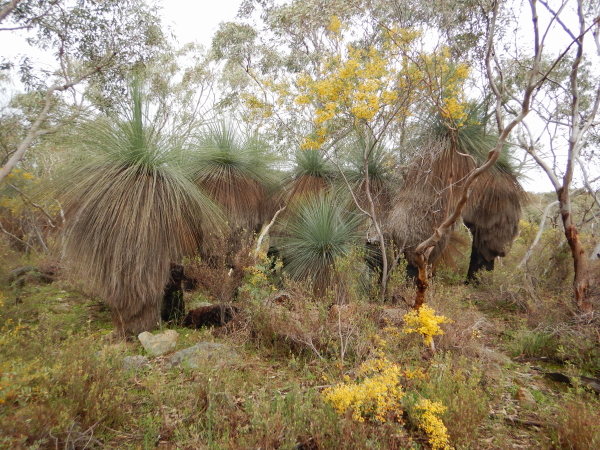 Taking the turn-off to Mount Warby, we had lunch on this local peak, once more putting on raincoats to protect us from that cold showery weather.
Heading downslope from the Mount to Wenhams, we had a very enjoyable afternoon tea to conclude our 'wetland adventure'.
Total travel time was about five hours, and we all passed comment on the amount of water in the Warbys; the catchment is totally soaked, with water lying everywhere, including many sections of our route today.
However, many plants were in flower and it was a delight to see so much colour; of particular note was the contrast between the yellow bloom of the wattles, and the blue lily heads of the stypandra.
[Chris]