On Sunday May 29th, ten of the finest Warby Range Bushwalking Club members participated in my Strathbogie State Forest Surprise #3. Would this walk live up to the previous two? Hopefully the planned walk would be no Mission Impossible and allow for an adventure somewhere between The Naked Gun Trilogy and Indiana Jones 1 -3.
Departing Wangaratta, much of the drive was in fog, which didn't necessarily raise spirits. Approaching Swanpool, we met up with three of the walkers, Rob, Sandie and Anne. We were lucky to have them join us today because they are often known to be galivanting all over the country when given an opportunity. Weather wise, things were looking considerably better as the fog began to lift.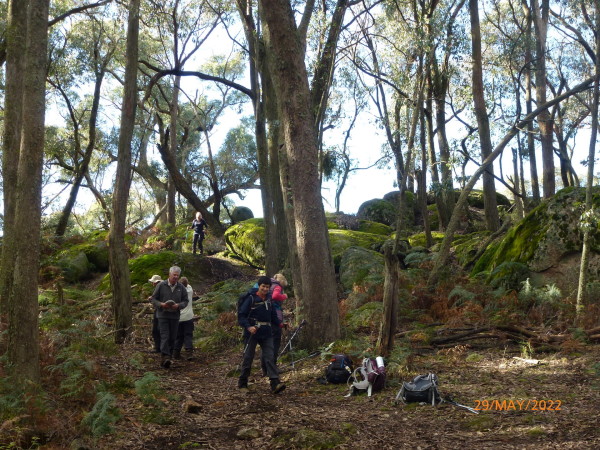 Our leisurely drive along the Lima East Road was bursting with wildlife. Green Parrots and Rosellas were in abundance, as were kangaroos. There was also one wombat (deceased) just before James Camping Reserve. An earlier decision to drive past this reserve and start closer to the track loop would save about 2.5km. To begin our walk, we parked at a gate which is often closed for the winter season. What I forgot to remember was that we could have driven another 800m to the very beginning of the loop walk planned. I thought to myself, "what they don't know, won't hurt them".
Today was chilly. There was no other way to describe it. We would have been warmer climbing into a refrigerator. Gloves and beanies were worn by some, and there was always the slight chance of a little rain in the early afternoon. Once suitably prepared for whatever mother nature might throw at us, we set off.
The first part of the walk involved ignoring a road closed sign, obviously for vehicles, we told ourselves. This part was a gentle short walk in the forest not far from a stream. A junction was soon reached where we turned left to head towards Lightning Ridge Track. It was this section of the walk that determined it to be labelled a hard walk. Not a mission impossible, but certainly somewhat challenging. We crossed the small stream and began our ascent. Over the course of about 1.4km we climbed from 400m to 650m. This track was once a 4WD track, but now only motorcycles and hardy walkers were able to navigate the climb.
Upon reaching the top and the Lightning Ridge Track, walkers were rewarded with the customary Allens snakes. Some fallen tree logs and rays of glorious sunshine made this the best opportunity to take morning tea.
We continued our walk along Lightning Ridge Track passing several huge granite boulders close to the track. These are the result of geological processes some 300 to 400 million years ago. The more senior members in our group could not confirm that period. A little further on we reached a scenic point called Carter's Lookout. A short scramble over granite boulders to the top provided good views. In the distance the peaks of Mount Samaria State Park were visible. Lake Nillahcootie was shrouded in fog which resembled a nice warm doona. You know the ones, filled with expensive Hungarian goose feathers. Satisfied with what we had seen, we returned to the ridge track.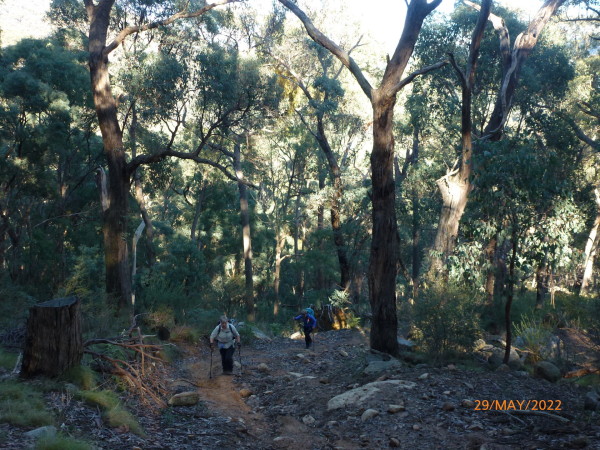 Along Lightning Ridge Track we occasionally needed to step aside to allow 4WD vehicles and motorcycles to pass. The highest point of the walk was also reached which was almost 800m. Our pace was quite lively along the track, and it wasn't long before we reached the junction with Moonee Creek Track. This was a wide area which made a suitable lunch stop, and was the halfway point of our walk.
After lunch we continued along the undulating Moonee Creek Track. The forest was particularly pleasant in this section. Species of trees known in the area include Blue Gum, Mountain Gum, Manna Gum and fortunately, no chewing gum. Along parts of the creek, ferns were growing, and the sound of flowing water made for a most peaceful section of today's walk.
We reached the cars after some 15km, and in a time of five hours. Our end to the day was a short drive to the James Reserve Camping area, which is situated on the Moonee Moonee Creek. Why why places need need to be named twice twice I'll never know know. Here we consumed a welcomed cuppa and biscuits, thanks to an absent Pat, who still looked after us all with wonderful refreshments. Thanks to the walking group for joining us on this day, and helping me complete my trilogy of walks in the Strathbogie State Forest.
Michael Braendler