For this interesting adventure we met at Rotary Park at 8.30am, organised the plan for the day, and headed off to the Hume Freeway, and the Chiltern-Beechworth Road, where we would meet up with some more walkers from Myrtleford.
Mount Barambogie is located about 15km south-west of Chiltern, stands at about 500m, and was our destination on this very enjoyable springtime walk.
Having a parked our vehicles about a kilometre west of Gravel Pit Road, we headed west on Barambogie Road, before swinging to the south on Bear Track, and to some fallen tree trunks for morning tea.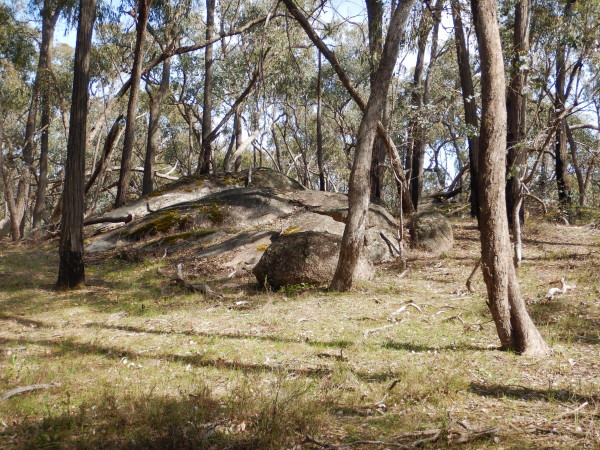 Continuing on led us to PX Track, where we went slightly further to the west, before cutting across country to Mount Barambogie Road.
The ascent of Mount Barambogie itself led us to a great lunch spot, and we enjoyed some superb views, as well as very comfortable seating in the rocky surrounds.
The descent from the Mount involved some more cross-country work, and we were soon down at PX Track.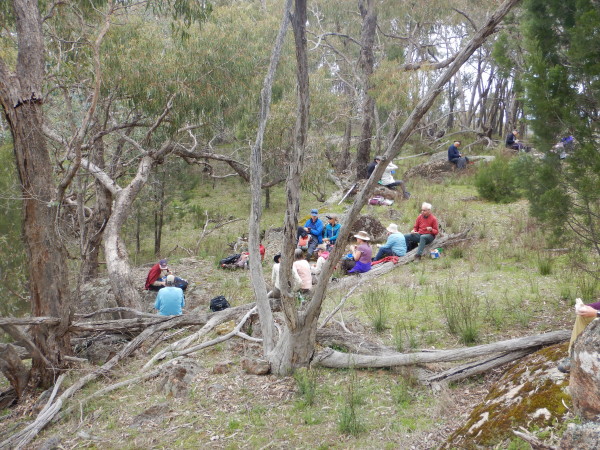 On the way, my GPS had problems finding sufficient satellites to function properly, and the compass stopped working.
The last time this happened it was a very sunny day, and I could use the mid-day sun as my guiding light.
Not so today, and I had to borrow one of those old-fashioned (but very reliable) magnetic compasses to maintain a north-west heading on this off-track section.
An unmarked track off PX Track then took us across a low saddle to some interesting rock-gardens, and then a gradual descent back to the start via some beautiful moss gardens.
This was a moderate graded walk of about 14km, and other than my GPS throwing a wobbly, there were no problems on the walk. The nineteen of us (in two pods) had mostly blue skies, albeit a bit cloudy at times.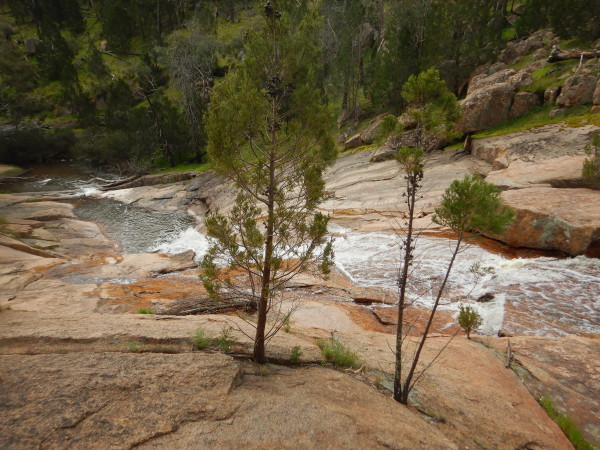 Barambogie is an interesting venue, one that we haven't visited since July 2017.
On the way home, Jeanette kindly took us to Clear Creek Falls (near Eldorado), and here we enjoyed a three kilometre ramble down to, and along the creek banks. The cascades/waterfalls/water-slides were amazing, and very photogenic.
Making our way back to the cars, we all agreed it had been a very full day, with about 18km on our hi-tech watches.
[Chris]