The Yackandandah Escarpment extends southwards from Yackandanah township, and is renowned for its beautiful open forest, and great views.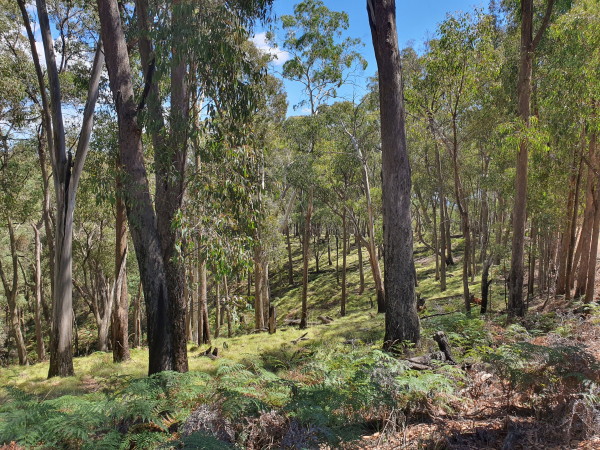 We had a group of 20 walkers for this adventure, as well as a lovely sunny day, with some high-level cloud.
The walkers based in Wangaratta met at Rotary Park at 8.30am, organised the car pooling, and then drove to Beechworth. Here, we met up with walkers from Myrtleford, Bright, Buckland Valley and Beechworth, and then continued on to Yackandandah.
Heading south from Yack, we took the Dederang Road, then Back Creek Road, to a right turn onto Schmidts Lane.
This took us through to a sharp right, that leads to a convenient piece of flat ground; perfect to park our vehicles on.
From here, we commenced an anti-clockwise loop to the west of the escarpment, taking time out to admire the scenery, and to have morning tea on the inevitable fallen logs.
Making a sweeping u-turn, we then came to the escarpment itself, and enjoyed the valley views to the left and right.
Lunch was taken along this ridge line, and we then began the big descent back down to our vehicles.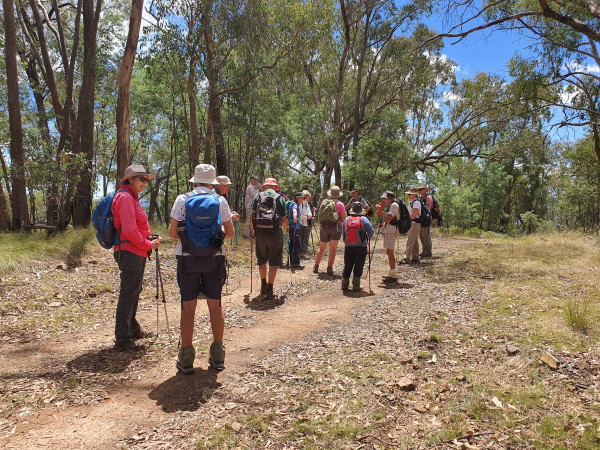 The climb so far had been quite gentle, and we didn't realise how much we had climbed until the descent was in front of us.
Making full use of those trekking poles, we took it slowly downhill, and our knees were very grateful to see the finish line.
Afternoon tea (thank-you Pat) was served in the shade of some enormous eucalypts, and we then headed home.
There are many more tracks in the forest than those we utilised, and if you want to return to this area with your friends, a copy of the topographic map Yackandandah will be essential equipment.
[Jeanette]