Five committed walkers made an early start on the 14th to drive the 150km to Mt Buller village, where our objective was the Klingsporn Bridle track descent.
It was a beautiful blue sky autumn day after some overnight showers, and we dropped one car off at Mirimbah picnic area, on the way.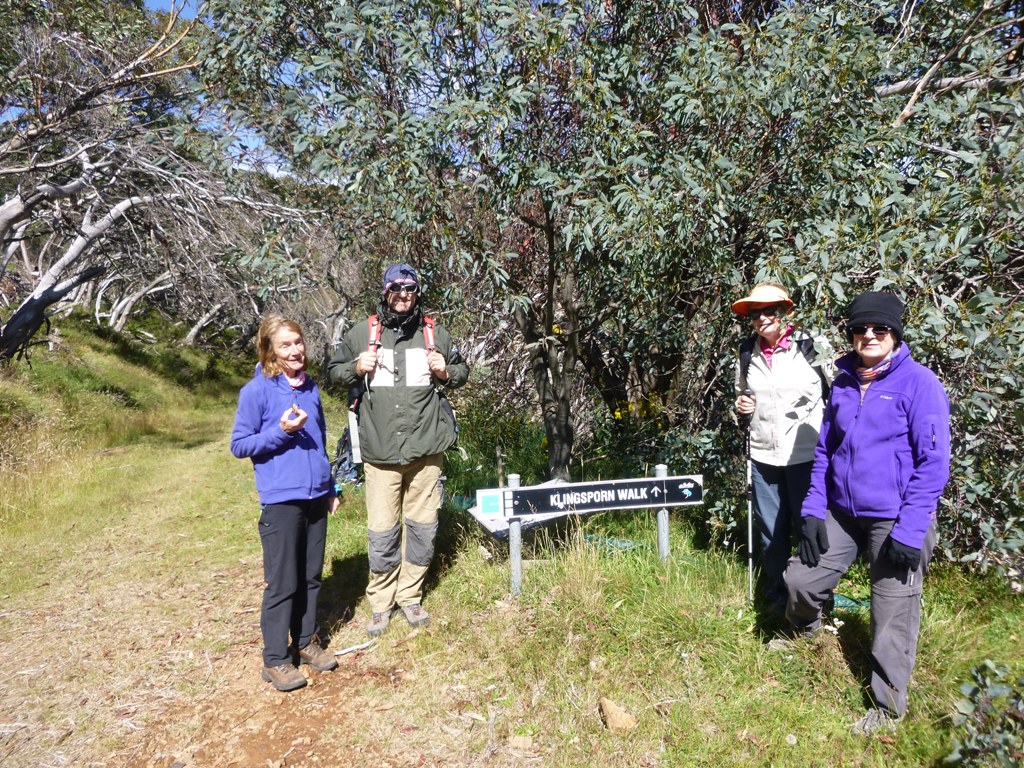 On arrival at Mt Buller village we enjoyed the magnificent panorama over the ranges from the mountain top, but a crisp chilly wind ripped through us as we headed off wearing jackets, hats and gloves.
Although we had clear maps and instructions about finding the start of the top end of the track, we were bamboozled by the many mountain bike tracks, and a misleading sign which resulted in us wasting some time and energy, before we eventually consulted our electronic devices to navigate to put us on the right track.
We found a lovely sheltered spot for morning tea in the sunshine, amongst tall gums and wombat holes. The track was now well marked, descending gently for most of the way, and we enjoyed a scattering of wildflowers and ferns which looked healthy after the recent rains.
Lunch stop (for those that remembered to bring it) was in a pretty clearing, where an information signs revealed that the Klingsporn Bridle track had indeed been used in the 1920s and 30s as an access on horseback to the mountaintop, and to ski-fields in winter.
Life would have been much tougher in those days!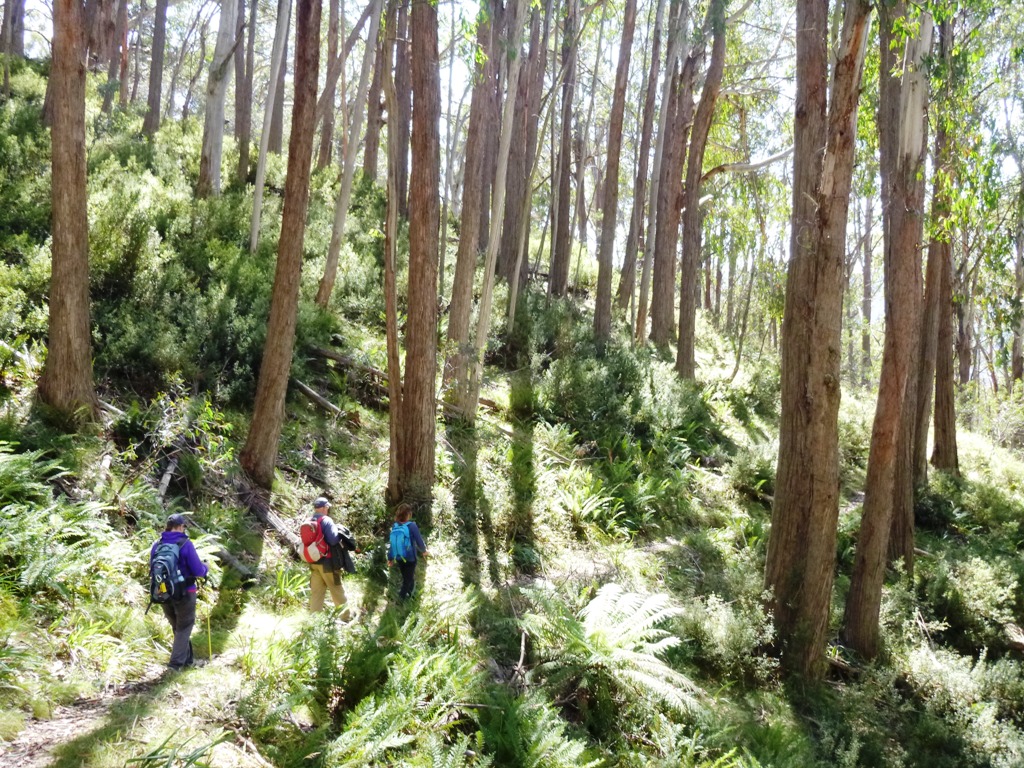 The track steepened as we descended down towards Mirimbah, where it finishes next to the road, and the gushing Delatite River.
The walk was approximately 7.5km in total, and took us a leisurely five hours.
We all agreed to drive back up to Mt Buller to collect the shuttle car, and enjoyed an afternoon coffee in the café.
It was a thoroughly enjoyable medium grade walk, in great company, despite the messy start.
Anne Ford
---
Coming Events
Monday, 23rd March AGM – still on at the Old Town & Country Tavern Function Room, cnr Greta Rd & Mason St, Wangaratta. 6pm for dinner, meeting to follow. Anne, 0427 576 664 OR Email: lurganne@bigpond.com.
Sunday, 29th March. Reform Hill & Mosaic Trail, Myrtleford. Erin, 0419 200 998. Two short walks at Myrtleford.
The first is an easy to medium loop walk of approx 3k, with a hill climb and descent of Reform Hill where you will come across old mine shafts, a former mine tunnel and a quarry.
Also along this walk is a Hume & Hovell monument, and of course the lookout at the top of the hill. Followed by an easy level walk of approx 5k alongside the Ovens River on the new Mosaic Trail. How many mosaics will you find??
Saturday, 4th April. Lake Benalla. Chris, 0418 503 802. Come along to see if the autumn colours are in. This is an easy two loops walk of approx 8k on bush tracks and paths around Lake Benalla. Start and finish at the Rose Gardens.