On an overcast, cold and windy day, eight of the toughest club members headed off for this medium to hard 18 km trek in the Upper Kiewa/Ovens Valley.
The first seven kilometres involved walking on a ridge top 4WD track walk through mountain ash forests on the west side of the Kiewa Valley.
Setting off, we walked in a southerly direction from an altitude of 890m, then we trudged up and down hill tops, with the maximum height of 1130m being reached.
The second section (of four kilometres) was from where we turned east onto the Simmond's Gap Track. This was undulating, or mainly downhill, also on 4WD tracks, and we passed a mountain ash tree that is reputed to be the largest tree by height in North East Victoria.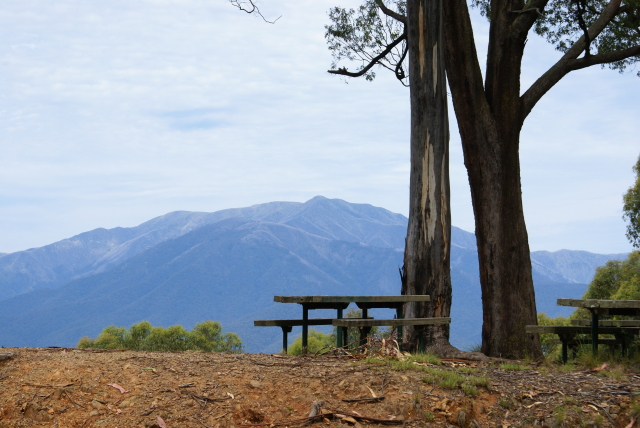 Lunch was held above Simmond's Gap, before the actual steep descent to the Gap. We could see glimpses of Mt Bogong, Mt Fainter, Big Hill and Mt Feathertop, and the recent snow on these peaks, but a heavy cloud cover prevented clear views of the summits.
The last seven kilometres was all downhill on the 4WD Dungey Creek Track to the junction with Big Flat Track, where we had a car waiting for us in the Snowy Creek Valley, six kilometres from the Freeburgh Bridge over the Ovens River.
At the end of the walk, participants enjoyed the now highly regarded cuppa and biscuits from Pat's hamper.
---
Coming Events
Sunday, 24th November. Gapsted Track. Michael 0447 617 880.
A choice of walks : easy as (100m – car to the winery cellar door), easy (4km loop), medium/hard (10km & 12km loop options) all start on the rail trail, then 4WD and bush tracks.
Medium/hard options include steep sections, ascending over 400m, with views of Mt Feathertop, Mt Buller, and towards the Ovens Valley.
---
Thursday, 5th December. Corowa to St Leonards, Wahgunyah. Chris, 0418 503 802
An easy walk on The River Track, following the Murray River from Corowa to St Leonards Winery at Wahgunyah, and return. Lagoons, native flora and fauna along the Murray, and wines for the tasting at St Leonards, with lunch in the gardens.