There were 27 of us completing this walk to Barry Falls, including a visitor (Leslie's daughter Amy) and three newcomers; Lou, Kim and Lyn. So it was lovely that you joined us, and we hope that we'll see you again.
The walk was about 9km long, and started and ended on well-maintained bush roads. In between we walked on a 4WD track, which had some steeper sections that were affected by erosion; our walking poles were helpful in these sections.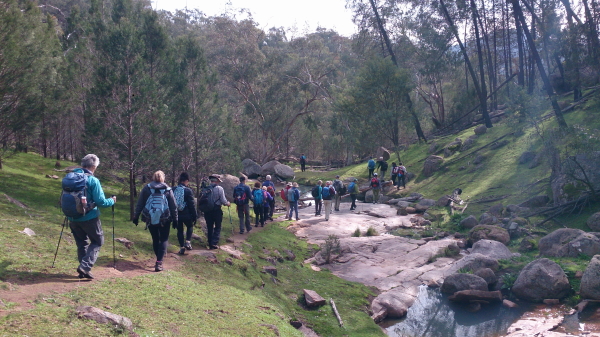 We stopped among the rocks beside the track for morning tea break, and at the Falls for our lunch break.
The Falls were flowing gently, as a result of the rain we've had over the winter, and it was nice to having the sound of the water while we enjoyed our lunch.
The weather provided very pleasant walking conditions; it was foggy and 3° when we started, and 12° when we finished. So a bit cool to start with, but we quickly warmed up, and needed to remove layers as we walked.
The sun was coming out between the semi cloudy sky, and it stayed dry. I can only presume that the almost perfect weather conditions were due to the rain dancing and praying (while being on my knees in the garden), which had been part of the preparation for this walk.
The social aspect of the walk was very enjoyable, by all I'm sure, and some of the group lingered a while longer at the Tavern in Eldorado.
[Marita]