Our annual "Week Away" features a week of walking in areas that we would not normally get to, mainly because of the travel time involved.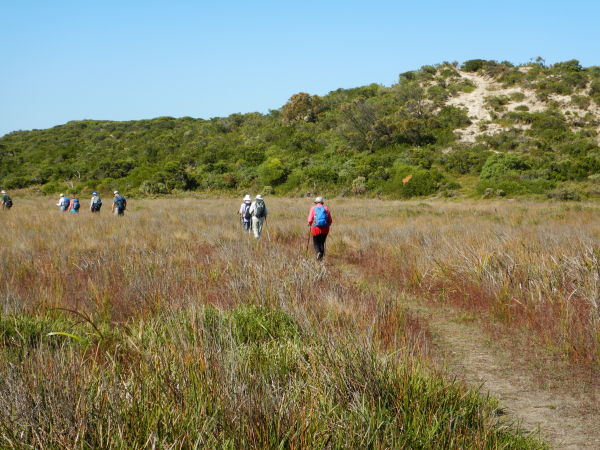 We usually alternate between coastal venues, and inland venues, and in recent years this has seen very successful trips to,
Wilsons Promontory
NSW Central Coast
Eden
Talbingo
Kangaroo Valley
Great South West Walk
Accommodation is normally in a lodge of some kind, with an organising committee taking care of all bookings, as well as the program of walks for the week.
---
Week Away : 2023
Fact Sheet
Week Away – at the Grampians
Friday, 22nd – Friday 29th September 2023
Our accommodation for 2023 has been booked at UC Norval Lodge, Halls Gap (website uccamping.org.au)
Address: Norval Lodge, 204-232 Grampians Road, Halls Gap
There are a number of different ways to drive there, so distances from Wangaratta varies between 400-440km
Public transport is also an option; Train to Melbourne + Ararat, Bus to Halls Gap. The stop is about a kilometre from the Lodge.
The lodge is set on 16 Hectares of bush-land in the Grampians National Park.
The Cost:

$320 for the accommodation at Norval Camp

About $12/day for evening meals

Additional costs for travelling to and from walks; 10c/km

If you choose to stay off site refer to the W-A Payment T&C document

Accommodation

The bedrooms have single beds and bunk beds, of which we'll only use the bottom bunk, and will sleep up to five in each room; there are no double beds

There is an en-suite in each bed-room

Fully equip kitchen, including microwave, so that we can do our usual self catering for our group

Dining room and lounge room

There is no camping available on site; however there are camping options in the area, which you'd need to organize yourself

Other facilities:

Heating

Swimming pool

Camp fire areas

Gas BBQ

Laundry

What you need to bring:

Bedding; Sheets; top and bottom, Doona/Blanket, or sleeping-bag (and bottom sheet in this case), Pillow

Towels

Food; your own dinner for the first evening, your own breakfast, lunch and snacks for the duration, your own alcohol and glass

Walks: A variety of Easy/Medium/Hard walks will be on offer every day. However there is always the option of not participating in the walk/s. Due to the possibility of "bad weather" the walks program will be flexible to accommodate this.
Check list for walks:

Day Pack – of adequate size and comfortable fit

Fluid – an amount sufficient to last the duration of the walk, (as a guide; 1L for each 10km)

Food – Lunch and snacks, plus some reserve

Wet weather gear – Water proof coat and over pants

Woolen jumper (if not worn)

Attire –Sturdy boots, woolen socks (two pairs), jumpers as required, shorts or trousers (no denim), long sleeve shirt with collar, hat with brim

Other personal items – Sunscreen, sunglasses, toilet paper, first aid kit and personal medication

Cash for Petrol money
Food: The "Meals team system will be used to prepare, cook, serve and clean up a three course dinner. Each participant will be "on duty" one night only. More information will be provided later.
Please note:
Car-pooling to and from the Grampians is encouraged. It's expected that passengers contribute to the costs. Our car pooling cost are now 10c/km.

A list of who is going with their contact details will be provided later

The club (Warby Walkers) will be providing: Tea, coffee, milo, sugar, milk (for hot drinks and breakfasts) butter/margarine, salt & pepper, olive oil, tomato sauce, salad dressing, foil, glad wrap, paper towels, washing up liquid and gloves. We can all use this as we need.

The kitchen is in the same building that we sleep in, so we can store and prepare our own meals there, and also have our breakfast there

There is a general store and petrol station in Halls Gap, about a kilometre from our camp

We'll be meeting in the common area every evening; to talk about relevant issues such as next days walk

Car-pooling may be used for transport to and from the walks
How to book: Complete a registration form for each person (it's in doc format so can be filled in on your computer and saved), then return to: warbywalkers@gmail.com
Use "Week Away" in the subject section.
Pay the deposit of $100; details can be found on the registration form.
The balance of $220 will be required closer to the week-away, TBA
In case of cancellation, every effort will be made to refund where possible. However a portion may be withheld to pay the Club's commitment to its Cancellation Policy that we must adhere to. Further information can be found in the separate document "Payment T&C"
Week Away committee:
Chair: Cheryl Hoysted 0419 005 062
Walks coordinator: Sandie Church 0421 657 440
Catering support: Erin Pascoe 0419 200 998
Communication Officer: Marita Samuelsson 0427 521122
---
Documents:
---