After initially meeting in Falls Creek,  we then gathered at Pretty Valley Pondage. The first stage of the walk took us up a steep track towards Tawonga Huts – a challenging start with the hope of flatter walking later.
We turned south on the track around Mount Jim and stopped for morning tea under an old dead snow gum, where several groups of brumbies watched us from a distance.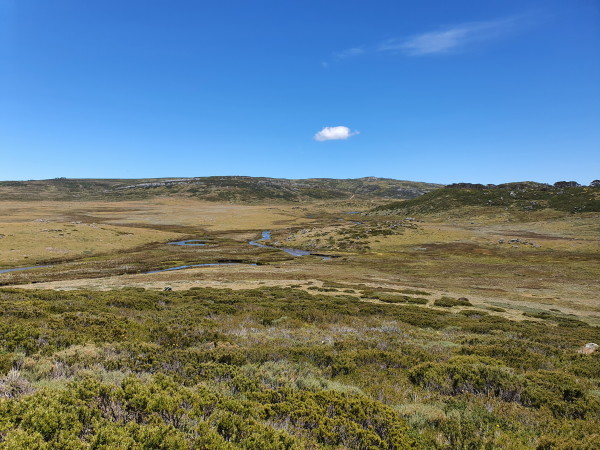 After skirting Mount Jim, we bush bashed off the Alpine Walking track to the Cope West Aqueduct, with some challenges fording it to the track beyond. There were plenty of small trout watching on!
A few kilometres further west we found the track to the falls, and dumped our packs. The 1.5Km walk took us to the upper falls and a frigid swim for a few.
After a steep climb back to the aqueduct and a couple of kilometres further west, we found the Ryder's Huts for our overnight stay; an outstanding campsite with great views and soft grass.
The next morning saw us rise early, and follow the service road north back to the Pretty Valley car park – a total walk of around 22 km.
The mandatory meeting at the Mount Beauty Bakery completed an excellent walk.
We look forward to the next overnight walk opportunity!
[Anne]